From West to East – One week in Etosha National Park
Since we have taken 2 months for our honeymoon, there should also be an extensive stop in Etosha National Park this time. We reserved a whole week for the wild adventures in Etosha National Park! So much time in the backpack allows to cross the complete Etosha National Park. Therefore we decided to cross from west to east.
Quick facts about Etosha National Park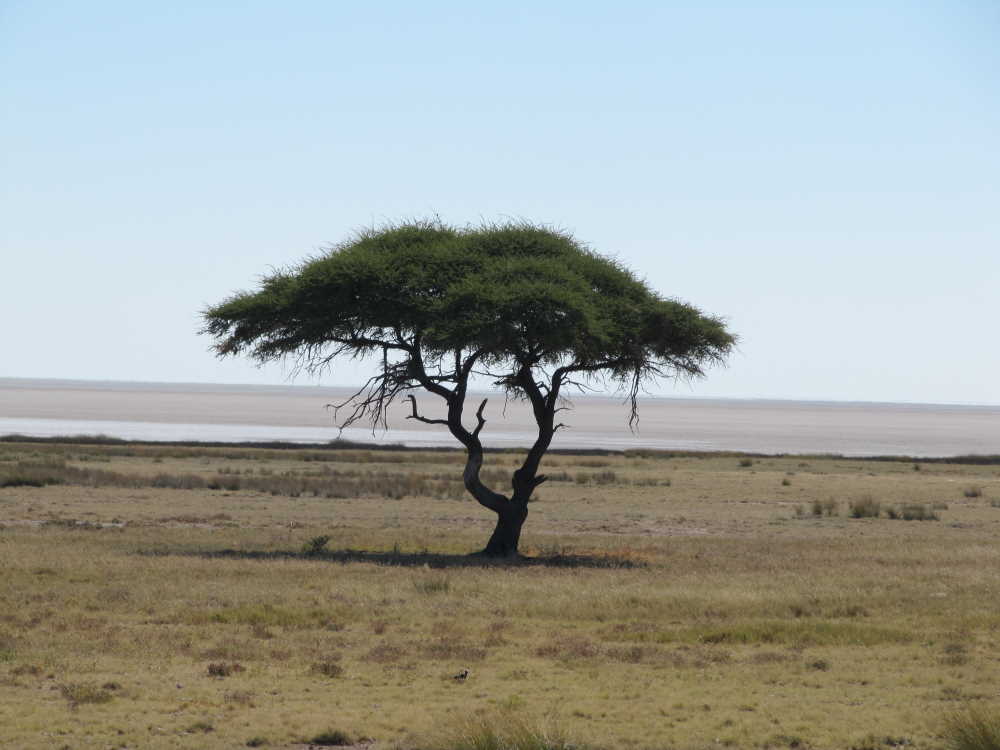 The Etosha National Park is certainly a highlight for every Namibia trip. When entering through one of the 4 gates, one has to register and pay a park fee per day. But don't worry – if you decide to extend your stay during your stay, it is always possible to pay the corresponding days later.
The park shows a good cross section of the animal species living in Namibia. Except for the buffalo, you can find all the "Big 5" (elephants, rhinos, lions, leopards, buffalos). Furthermore, many different antelope species, zebras, wildebeests as well as diverse bird species can be found.
The center of the park is the 5000 square kilometer Etosha Pan, which is a salt clay pan. If the inflows and the rain play along well, the pan turns into a huge lake. After the dry season, a huge crust of salt then covers the ground. The wildlife benefits from this salt.
The flora of Etosha promised many wild adventures in Etosha National Park especially this year after the very good rainy season. Whether dwarf bush savannah, mopane trees or grass savannah – for every animal species there was enough food and space to hide.
Follow our path through the Etosha National Park
Dolomite Camp – Sleep in a four-poster bed
Our first stop in Etosha National Park was Dolomite Camp, located in the west. It is located on a small hill and promises a good overview of the adjacent grass savannah. A small golf cart takes you from the parking lot to your cabin, several of which nestle around the hilltop. Dolomite is a dinner, bed and breakfast accommodation where you can concentrate purely on relaxing and watching animals.
We spent a quiet night here before continuing through the wild nature towards Okaukuejo.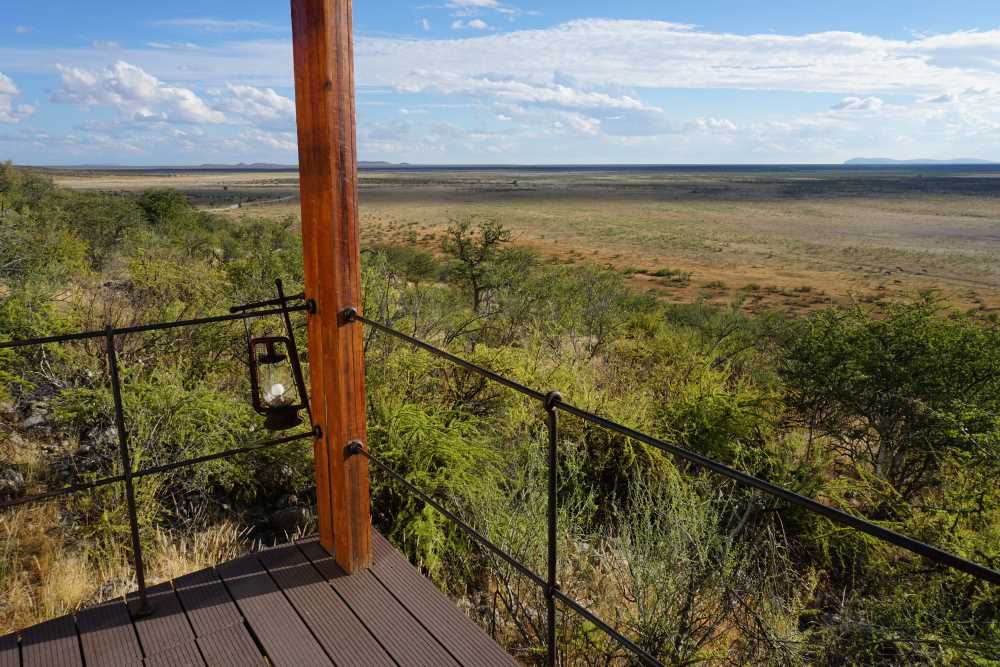 Okaukuejo Campsite
In Okaukuejo we spent a total of 3 nights. The special thing about this campsite is the illuminated waterhole, which is visited by many animals in the evening and at night. There is a nice little arena as well as many benches, which invite to stay and observe at any time of the day or night. It was almost constantly busy at the waterhole.
Especially in the first hours after dark we could see various rhinos, elephants, zebras, giraffes and even a brown hyena! Likewise we should have the luck to be allowed to photograph a flying giant bustard as well as a secretary bird with the start. During an afternoon drive we found 6 lions at a waterhole, which were in a moderate hunting mood. However, they were very quickly brought to their senses by an approaching rhino – and so the kudus and springboks could leave unharmed.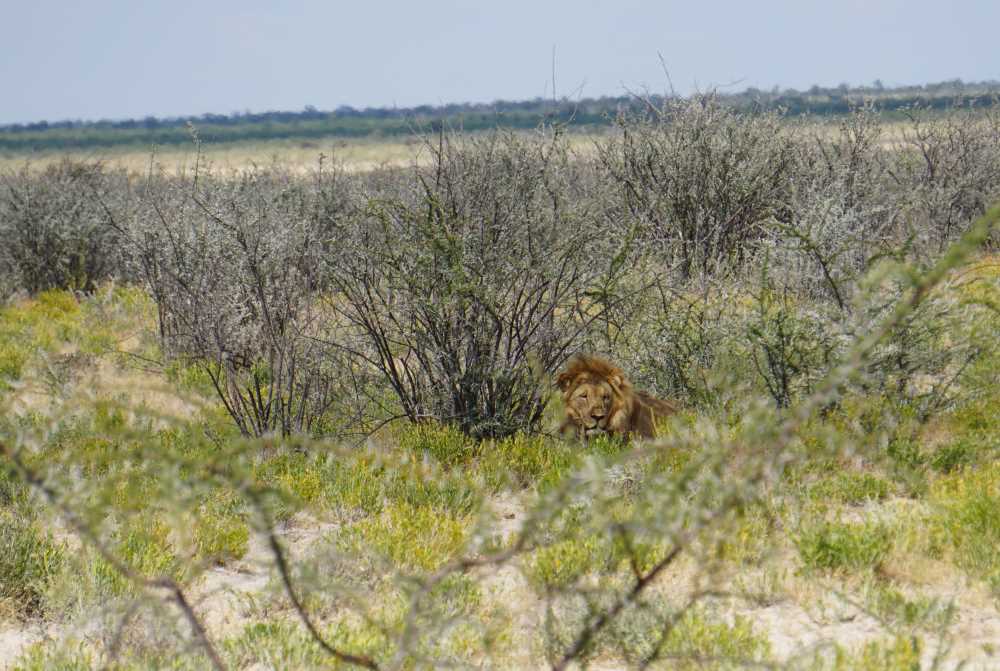 Halali Campsite
From Okaukuejo we moved further east through Etosha National Park. The next station was the Halali Campsite for 2 nights. Due to the abundant rainfall and the therefore very dense and high overgrown nature, we were able to spot mainly antelopes, zebras, wildebeests and birds. Neither lions nor elephants could be found in the dense green. Here the wild adventures in the Etosha national park consisted of rhinos, which we have sighted completely unexpectedly in the shade a small noon nap holding. It was again the proof – if you are at the right place at the right time, you can see something. If you arrive only a few seconds later, the animal is no longer moving and immediately almost invisible.
From here we also made the tour to the Lookout Point of the Etosha Pan. Here we could still experience with our own eyes and feet how good the rainy season must have been. The pan was not yet parched – our feet practically sank into the mud! This directly encouraged us to draw the Dusty Trails Safaris logo in the mud. And as long as no one walks or drives over it, it should remain clearly visible until the next rainy season!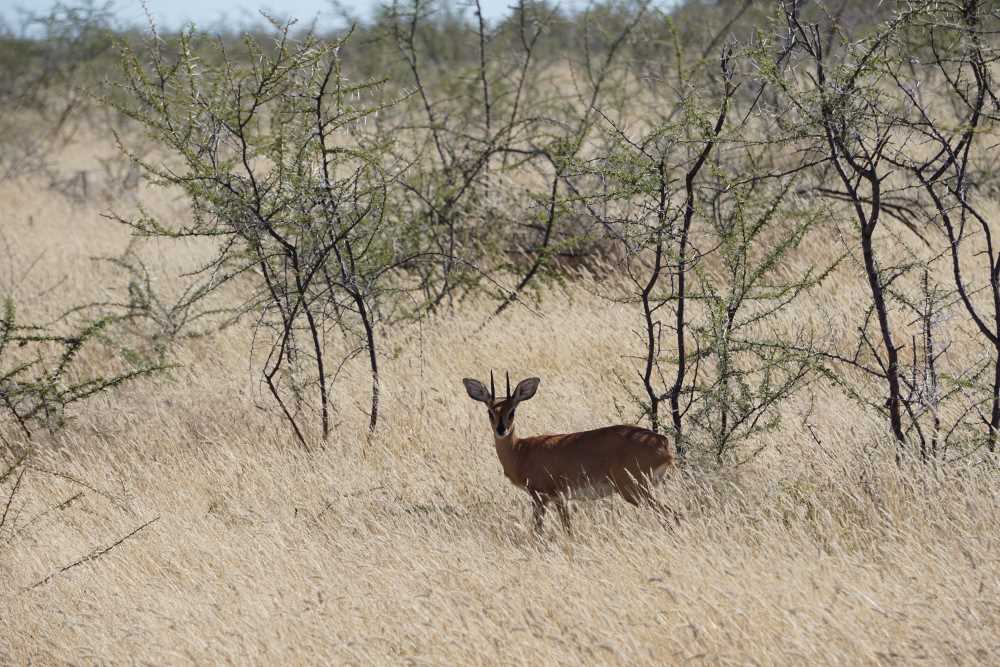 Namutoni Campsite
The last night in Etosha National Park was spent at Namutoni Campsite. This is located in the very east. Here there is a beautiful old fort, which we have never found open in all these years. So we still only know how it looks from the outside… But we were welcomed on our campsite by busy digging mongooses.
Namutoni is located directly at the so-called "Fisher's Pan". This pan, which almost always contains water, promised a few special discoveries this year. Beautiful red shining flamingos, herons and marabous had a rendezvous here together with various other water loving birds. Since they were mostly standing on the road, we were able to get them to take off by car – and got some nice shots of birds taking off or flying.
The black rhino surprise
To a very special wild adventure in the Etosha National Park it should come on our return trip around the pan. On the search for any animals we drove comfortably around a curve, behind which a black rhino should find itself all of a sudden. It's not entirely clear which of the three of us was more frightened. In any case, after a moment of fright, the rhino complained very clearly that we had invaded its comfort zone.
It slowly but clearly turned in our direction. Even turning off the engine didn't convince it that we were being kind to it. After a few seconds, Martin had the feeling that he'd better start the engine again. And not a second too late – the rhino took off in our direction with an angry snort and pawing hooves. Running! We haven't backed up that fast in a long time! With a proper safety distance, we stopped again.
All under the suspicious gaze of the rhino. Only slowly did it feel comfortable in its territory again. Continuously looking at us, it slowly disappeared across the road on the other side in the bushes. We then put it in forward gear and moved on briskly. Spontaneous adrenaline rush!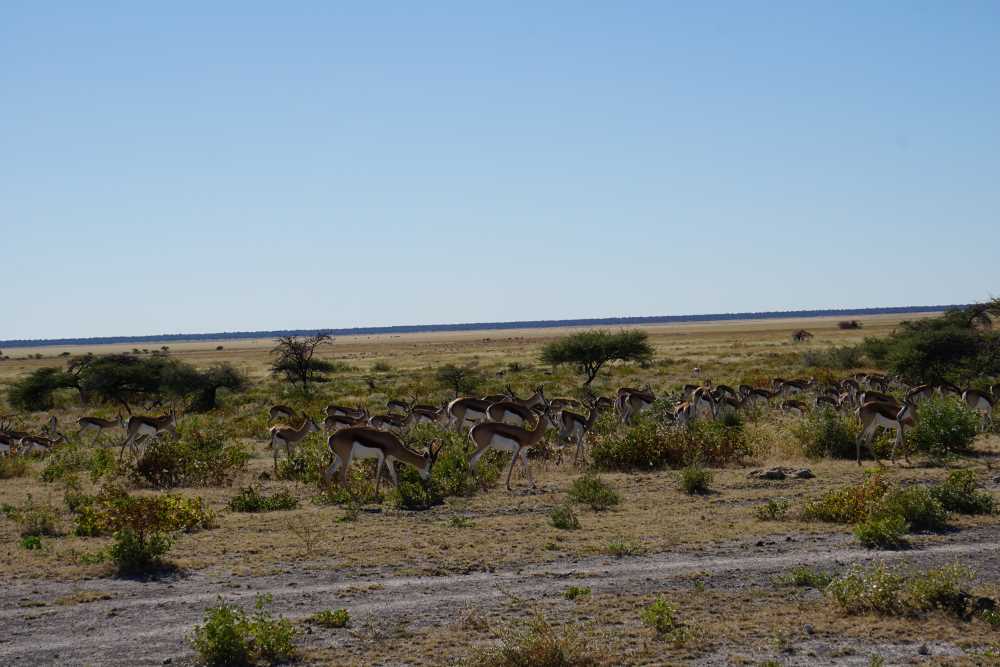 Time to leave the Etosha National Park again
Finally, we drove the "Dik Dik Drive" the following morning. Here one finds with much luck the smallest and felt also most timid of all antelopes, the Dik Dik. We should be rewarded with very intrepid and curious fellows. After watching them graze and wander around for a while, we left Etosha National Park via the eastern gate to head to our next stopover, the town of Tsumeb.
More posts related to the safari honeymoon