There are always two parts to traveling. The journey to the destination and the journey itself. With Namibia as a destination, the destination country is first considered safe. The low population density on the sheer size of the country make social distancing easy. Low case rates and incidence further support this. However, a flight is inevitable. This brings us to the point where many currently have reservations. Normally, airports are not known for having few people there and for maintaining safety distances. Even on an airplane, people like to sit a bit cramped with a lot of strangers. On the basis of the well-known standards, reservations are therefore quite justified. But what is it really like – flying during COVID? In the context of the honeymoon of Sunna & Martin, we were able to test the situation in the flesh. What we experienced, you can understand in the following passages.
Is it safe and easy to book flights?
Again, the short answer beforehand. Yes, booking flights is just as easy and uncomplicated as in the time before Corona. Bookings are possible via flight search engines as well as the airlines themselves without any problems. The range of flights is currently much smaller than previously known. Of the original 8 airlines with direct connections to Windhoek, only 2 remain. Lufthansa or Eurowings and Ethiopian Airlines. But both offer very stable flight schedules at fair prices. Lufthansa currently offers a direct flight from Frankfurt to Windhoek 4 times per week, which will be extended to 5 times per week in the near future. In terms of prices, the level is somewhat on par with 2018.
Flying during COVID and the worry of cancellations or rebooking
Booking a flight is only the first step. However, in order to get to the desired destination, it must also be carried out. In the event of minor disruptions, there is often the worry that a flight will be canceled. Perhaps one must rebook also even, for private or health reasons. All this sounds like unwanted hassle or extra costs.
Reassuringly, however, you can save yourself these worries. The airlines are very flexible in the area of rebooking, so that this is possible even in the lowest fare. The implementation rate is also just as high as in previous years. If the concerns then prevail, booking portals offer simple ways to book additional insurance for these cases for a cheap price. With many travel insurances this achievement likewise contains. There are even standard connections offered which provide longer stays, for example in Frankfurt to provide times for last minute COVID tests or unforeseen changes enough buffer.
We decided to book directly through Lufthansa and only a short stop of about 1 hour in Frankfurt. Again in advance, it worked out wonderfully – this article was already written from Windhoek.
Flying during COVID and the usual crowds at airports
In our memories of vacation or business trips, airports are always crowded. Long queues. People are constantly in a hurry and security distance are usually an absolute foreign word. Now, however, we were presented with a completely different picture. Yawning emptiness. Sunna & I suddenly agreed, never in our lives have we seen such deserted airports. So first impression was, flying during COVID makes you feel a bit lonely 🙂 .
At Hamburg Airport, our surprise was still limited. Since the beginning of Corona we had already observed a clear decrease in air traffic. Quite unexpectedly, however, we also saw Frankfurt Airport more deserted than ever before. Also at the largest German commercial airport we saw the same picture as in Hamburg. Only a fraction of the gates is at all in use. Most of the shops and restaurants are closed. The usual crowds in the aisles or at the security checkpoints were completely absent. Our clear conclusion from both airports: hygiene measures were observed by all and social distancing was no problem even when boarding the plane.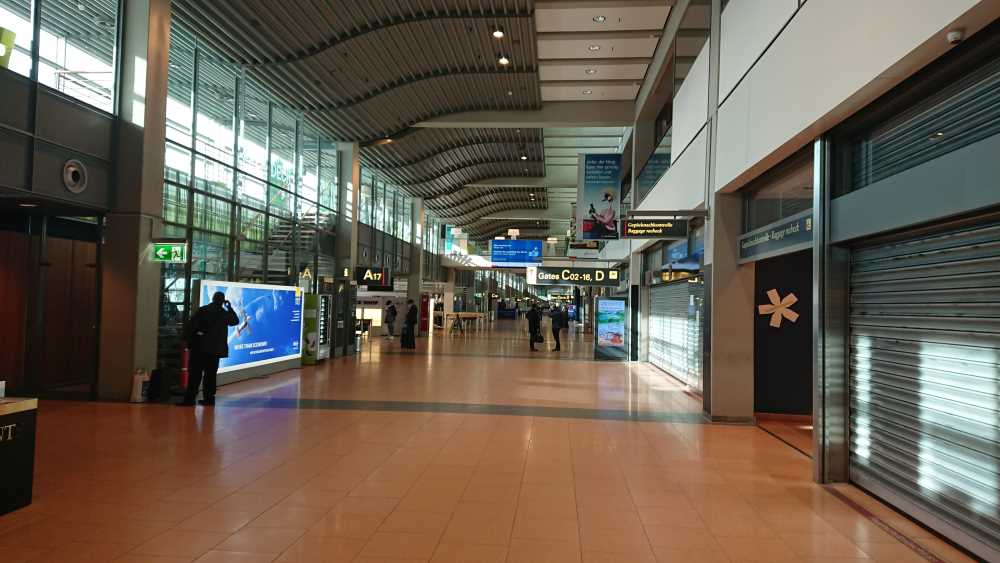 What about safety during the flight itself?
Here, too, it should be said in advance that there is very little cause for concern. Just a few minutes after boarding, the signal "Boarding Completed" sounded. A quick look around the cabin showed that there was still plenty of room on the plane. By rule of thumb, we estimate a load factor of about 30%. This meant that there was plenty of room for everyone right from the start.
Nevertheless, strict hygiene measures apply during the flight. This includes the mandatory use of masks during the entire flight. On boarding, disinfectant wipes are distributed directly or hand disinfection is carried out at the door. Queues in front of the toilets are monitored and distributed by the staff. Duty free sales are only available upon request. Meals are adjusted so that no direct contact of flight personnel with the food can take place. Critics will now surely ask: What is the use of a mask requirement if everyone has to take off their masks at the same time to eat? The airlines have made provisions for this, too.
High performance air filters keep you safe
Just recently, there was a webinar from the Namibian Tourism Board, where Lufthansa also shared their current plans for the flight route, as well as providing insights into the hygiene concept. The finesse of this is indeed amazing. A relatively simple trick in air purification basically ensures very high safety. The filter systems run at full speed throughout the flight. In order to be able to filter impurities in the air reliably, the filters are changed every hour. Strictly speaking, this measure would even be enough to relax the mask requirement. However, no airline in the world can guarantee that a potential seat neighbor will not have a slightly damp debate. Thus, the double security with air purification and mask becomes necessary.
Even after landing, simple but effective measures have been taken. Normally, everyone knows the crowding in the aisles as soon as the aircraft comes to a standstill. To prevent this, a staggered exit according to seat rows has simply been introduced. Although this makes disembarkation itself take a little longer, social distancing and too close contacts can be avoided effectively.
Arrival in Windhoek
Even after leaving the aircraft, the security measures do not end. Due to the row-by-row exit, only smaller groups of people wander in the direction of the arrivals hall. After entering, hand disinfection follows again. Masks are also required there, of course. Before going to passport control, the negative Corona tests are checked and a fever quick check is carried out. Of course, there are queues at the passport control. However, we were also amazed at how well the security measures were adhered to by everyone involved. To avoid unnecessary congestion by filling out the necessary entry documents, as well as the documents for Corona tracking, these have already been distributed on the plane.
Flying during COVID – Our conclusion
Our conclusion is quite clear. At no time did we have the feeling that we were at a higher risk of infection due to the flight itself. At all places, appropriate hygiene measures were established and controlled. We were also positively surprised by the discipline of our fellow passengers. Only the removal of the mask after leaving the airport, we could hardly wait.
More posts related to the safari honeymoon