Get your 4×4 rental car in Namibia
With Dusty Car Hire Namibia we are also offering services for 4×4 car rental in Namibia. No matter if you want plan and go on a trip on your own or need our special safari vehicles for your own services – we can be the partner of your choice!
We are open for collaboration! Our 4×4 car rental fleet is not only available for private bookings, especially the safari 9-seaters are also available to support other safari tour operators. Depending on your needs you can even book a driver / guide with your car.
4×4 car rental Namibia with high standards reliability
A reliable car is most important when going on a safari trip.
The African heat along with the dust and bumps while driving on a gravel road or even off-road are hard conditions for all vehicles. Accidents and breakdowns may not only ruin your trip but also cost your life. For that reason we keep our vehicle fleet in continuous maintenance. Each car is on regular maintenance and is additionally going through a full-service after each trip to ensure best conditions.
Furthermore all cars have special modifications to fit best to the hard conditions of safari travelling. Since those modifications are varying your can find more details when browsing the rental car fleet.
Rent your camping gear or even a camping trailer
Independently if you are planning a camping or lodging safari, usually there is some extra equipment you will need. For camping trips this is quite obvious, tent equipment, cooking sets, cutlery, storage boxes and a fridge are necessary. On a lodge trip you may not feel the need of extra equipment but enjoying a stop on a scenic viewpoint, having your own chairs, table and a cold drink can sweeten up your journey. For trips with bigger groups or 9-seater rentals we usually offer a camping trailer for transporting the luggage as well as the equipment.
Following camping equipment is available with our car rental offerings:
camping trailer
tents, mattresses, camping beds
cooking sets, barbecue sets, cutlery
fridge / freezer combination in different sizes
chairs, tables, storage boxes, camping lights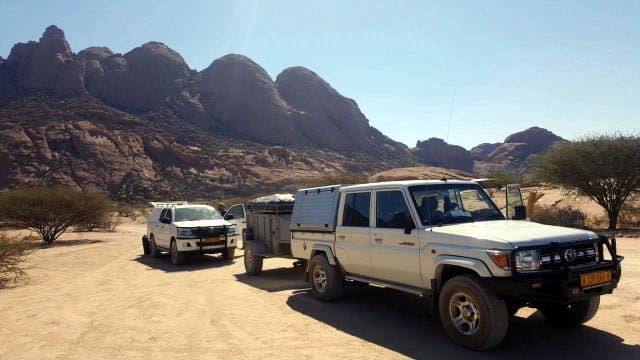 Flexible car pickup and drop-off
Our rental cars are located in Windhoek to provide the best starting point for our customers.
Default pickup address is: Auas Rd, Olympia, Windhoek, Namibia – near Arebbush Travel Lodge.
If you require we also offer vehicle drop-off and pickup across a lot of destinations.
Of course you can also pickup and drop-off your car at Windhoek Airport.
Feel free to ask for it!
Following pickup and drop-off locations are currently available:
Windhoek
Swakopmund
Walvis Bay
Tsumeb
Oranjemund
Oshakati
Rundu
Sossusvlei
Sesriem
Katima Mulilo
Lüderitz
Maun
Gabarone
Kasane
Cape Town
Johannesburg
Insurances and GPS tracking
Accidents can happen – even if nobody wants them to.
This can become a huge problem since in most African countries there is no obligation to have an insurance for a car – so every damage can directly get your damage. To prevent you from such unwanted situations all the Dusty rental cars do have a proper set of insurances that are included in the rental price. For being able to react to emergency situations and always stay in the insurance boundaries all cars are equipped with a GPS tracking systems that monitor speed and impacts of the car.
You can decide which the level of insurance. We do offer different insurance packages. Depending on your level of experience you can decide, what level of coverage your trip and driving-skills may require.
Service that does not end after booking
The most valuable services to you are the ones dealing with the smalls things during your safari. To support that the best we are optionally offering delivery and pick-up services. In case of any issues during your travel, you will get a 24/7 contact person answering questions or dispatching support to your current location. A GPS System with updated map material for southern Africa region will help to always keep your track through the bush.
Check out our 4×4 car rental Namibia offerings
Our service to find your perfect 4×4 rental car
It is important to us to supply you with the car fitting your purposes best. For that reason we will always get into closer contact to you after each enquiry to elaborate your needs. Sometimes it can be a bit tricky to find out yourself what is the best choice. Key drivers like group size, luggage requirements or the need for additional camping equipment may influence the choice for the right rental car for your safari. During this process we will support the decision for the fitting insurance package as well. In case of any questions, please do not hesitate to contact us!
By the way: if you should need some support in planning your safari or finding fitting accommodation, Dusty Trails Safaris Namibia is also offering self drive safaris. Feel free to have a look and get inspired.
What is a good 4×4 rental car for my trip?
If you already want to find out which type of safari car could be the right one for you trip before getting in touch with us, please check the following sections. For a basic decision the following questions help to lead to the right choice:
How many people are travelling?
Do you prefer travelling in a group?
Are you planning to do camping or rather prefer staying in a lodge?
Ideal rental cars for lodge trips – safari SUVs
Lodge safaris are usually rather focused on comfort and relaxation. As lodges often offer special wildlife activities, you will mostly use your safari rental car to reach your next destination. Usually you have only your personal luggage on board. So there is no need for extra large storage space. A refrigerator in the car offers you even more travel comfort. Our 4×4 safari SUVs will a good option for that kind of travelling. They are offering maximum comfort also on long distance trips by still providing full 4×4 capabilities.
The Toyota Land Cruiser 200 is to most modern and luxury car in our fleet. Get a real 4×4 car but with the full comfort of a modern SUV – that way even off-road driving can be smooth and comfortable. Besides the different conveniences of the car it is also ideal when travelling with your family since there is room for up to 7 people.
Ideal rental cars for camping trips – double cab pickups
Camping safaris are all about the nature and wildlife experience. You will need your tent as well as good camping equipment to be able to build up your temporary home in nature. So having enough space for that and also your personal belongings is key. Also, you might want to go a bit more off grid with your car while exploring the beauty of the bush. 4×4 Pickups or Bakkies as they are called in southern Africa are a good choice for that kind of trip. Our Bakkies are all double cabs providing space for up to 4 people.
Ideal rental cars for group trips – 9 seaters
You want to travel closely together with your family or friends? Why not travelling all together in one car instead of renting multiple cars? Often 9-seater safari vehicles are used for organized small group safaris. In the meantime, however, they are also becoming increasingly popular for family trips. They are offering space for 9 or sometimes even up to 10 people. So everybody can sit and enjoy the trip together. Only point to consider is the required space for luggage. The more people you are travelling with, the less space will be there for your luggage. Dependent on the amount of travelers we suggest to take the camping trailer along. This will even provide enough storage space for camping trips. By the way: to be able to enjoy your trip even more, consider getting your own driver & guide along with your safari 9-seater.
This Toyota Hilux is custom rebuild to perfectly fit small group tours. The custom platform is made for good travelling comfort and perfect view on safari tours. For smooth communication between guide and passenger there is an open cabin as well as an integrated speaker system. No truck driving license required.
4×4 car rental Namibia – Useful additional information
Travelling and driving in another country can be challenging. Especially if it is your first trip. New traffic rule, left hand side driving, a new type of car and also the challenges of driving on Namibian or Botswana roads itself. If you want to prepare for your trip or are looking for some useful hints about driving and car rental please our car rental tips & tricks blog category.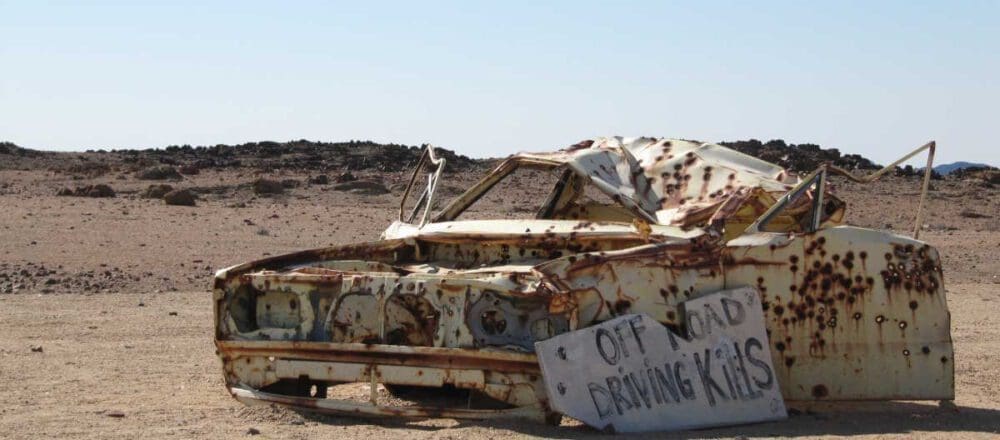 Sometimes it's a little carelessness, sometimes other road users or wildlife and sometimes just bad luck. Before a breakdown or accident, ultimately no one is immune. But always, the most important thing is – keep calm. What you should also do you will find here in the form of some useful tips.
4×4 car rental Namibia: FAQ
Are special diving licenses required for the rental cars?
Most of our cars can be driven with a normal car driving license (up to 3,5 tons).
Only exception is our Toyota Land Cruiser 9-Seater. Due to its weight a truck driving license is required. If you do not have such a driving license you can still rent that car along with one of our driver / guides.
Can I get help in case of accident or emergency?
Of course you will get help as fast as possible. You will get a 24/7 emergency contact that will dispatch suitable help. With the GPS tracking system we are also able to locate you and send support in case of heavy accidents or if you got lost.
What is better: camping car with rooftop tent or ground tent?
In the end it is a pure matter of taste. With a ground tent you only require a bit of storage space in the car and still have free space on the roof. Also you can build up a fixed camp.
Rooftop tents are quickly build up and you always carry around your place to sleep. But still you need to be careful when driving at low clearances to not break your tent. This might happen on parking lots of shopping malls as well as when searching a nice and shady spot on your campsite.
What is included in the basic rental price?
All price tables shown at the vehicles contain the standard rates including standard cover insurance package. Also GPS tracking, a recovery kit as well as unlimited mileage is included in the basic price.
Where can I pickup my rental car?
The default pickup address for rental cars is: Auas Rd, Olympia, Windhok Namibia – near Arebbush Travel Lodge. Except from that we offer vehicle drop-off and pickup at various locations.
Can I pickup my rental car at Windhoek Airport?
Of course you can. Please let us know where you want to pickup and drop-off your rental car during the booking process.
Is it possible to drop off the car outside of Namibia?
Yes it is. Once agreed in during booking you pickup or drop-off your car even in Botswana or South Africa.