Namibia's road network covers about 45,000 km of which about 60% are not paved. Therefore, on every trip you will have the pleasure to drive on less or unpaved roads. On this mostly rather unfamiliar terrain, it is easy to make small mistakes that can have unpleasant consequences for your trip. Therefore, we would like to give you a few tips for driving on sand and gravel roads as well as 4×4 driving.
The right tire pressure saves annoying flat feet
Very often on our own tours we have met travelers who complained about having had a flat tire 3 times in 2 weeks. When asked briefly, it always turns out the same problem. Too high tire pressure!

When you pick up your rental car, the tire pressure is optimized for your first stage and this usually leads you first on tarred roads. As a rule, you will find values between 2.2 and 2.4 bar. This ensures ideal rolling resistance on solid surfaces while maintaining fuel efficiency.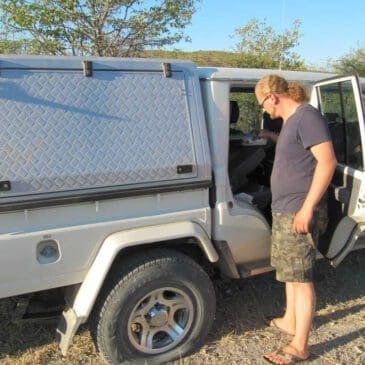 Tire pressure recommendations for 4×4 driving areas
However, if you then reach gravel roads where you drive over many small or even larger sharp stones, small branches or other obstacles lie in your path, the load on a tire increases enormously and it can burst. Therefore it is advisable to reduce the tire pressure. This will not only save you from the annoying puncture, but will also give you better grip on the loose surface. As a rule of thumb, you can remember about 1.8 – 2.0 bar.
In passages with soft sand, such as in Sossusvlei or Khaudum National Park, you should reduce the air pressure even further. Here, values between 1.0 and 1.4 bar are perfectly adequate.
How should I manage to always keep the tire pressure under control?
Adjusting the tire pressure so often – that sounds time-consuming. But it is not. At almost all vehicle rental companies in Namibia, a pressure gauge in the glove compartment is part of the basic equipment of the vehicle. With it, you can both measure the current air pressure and release air at the push of a button. Rental cars from Dusty Car Hire Namibia are equipped with a tire pressure monitoring system. So you can always keep an eye on the tire pressure and will also be warned automatically in case of pressure loss.
But beware, too little pressure in the tire is not a panacea. Fast driving with low tire pressure, e.g. on tarred roads or tight curves, can in turn cause the tire to jump off the rim or burst. You should therefore always adjust the vehicle's tire pressure to the surface. You can get fresh compressed air for your vehicle at any gas station or at many lodges and campgrounds. If you rent a vehicle from Dusty Car Hire Namibia, you will get a small mobile compressor with the vehicle, depending on the route, so that you are always able to ensure the correct air pressure. Safety first applies here as well!
Quick-Hint
The following values are rough guidelines and may vary slightly from vehicle to vehicle.
Tarred roads: 2.2 – 2.4 bar
gravel roads: 1.8 – 2.0 bar
Soft sand: 1.0 – 1.4 bar
Ruts, washboards, dust clouds and soft sand passages
With the correct tire pressure, you have already learned an important cornerstone for avoiding breakdowns. Nevertheless, there are still some more challenges waiting for you on the roads of Namibia. In general, the condition of Namibian roads is much better than in other African countries, as they are regularly maintained. However, the dry and harsh climate, and especially the rainy season, puts a heavy strain on them.
The challenges of gravel roads
The most caution is usually required here on the gravel roads. Due to the prevailing traffic, ruts quickly form in the slope. Often you drive very well and stable in these lanes. It is best to choose a lane in the middle of your lane (watch out for left-hand traffic). However, the ruts also pose dangers. When changing lanes, you have to cross loose soft sand and can start to lurch. Reduce your speed here and do not make any jerky steering movements when changing lanes. Also keep an eye out for changes in the condition of the road. At the edge of the road or in the vicinity of watercourses, the solid surface can change very quickly to soft sand. Careless steering movements and excessive speed can quickly lead to a rollover in such places. This is especially true in curves. The greatest safety here is provided by an alert mind and moderate speed.
In areas of open space, strong winds can also cross the road. In such areas, you will often find so-called washboards, i.e. transverse grooves on the road. These are a distinct challenge for both vehicle and occupants. Reduce speed before entering a washboard zone to pass the waves as evenly as possible.
Dusty trails create dusty clouds
Last but not least, a note on a phenomenon that can make for beautiful photos, but should not be underestimated when driving – dust clouds. On the dry ground, vehicles create fast dust clouds that can be up to several kilometers long. Depending on wind direction and strength, these lead to visibility of only several meters. You should therefore be particularly careful when overtaking or passing oncoming traffic, as other vehicles may only become visible to you in the dust cloud at the last moment. If visibility is too poor, sometimes the only sensible solution is to drop back behind the dust cloud.
Quick-Hint
The gravel and sand roads in southern Africa bring their own challenges you are not used to. The best way to cope with all of them is adapted speed. Slow down if you see any obstacles or changes in the road.
4×4 only warning signs and offroad driving
Depending on the itinerary, you may encounter signs saying 4×4 only. Take this request seriously. There you can usually expect very sandy or stony passages. Around the rainy season, these areas can be wet and muddy.
A small 4×4 driving how to
The safari rental vehicles have a separate selection lever or adjustment knobs for the gear reduction. Here you will find 3 settings. On tarred roads and well paved gravel roads, use the normal 2 wheel drive. In the range of 4×4 only, on poor gravel roads, as well as soft sand or other surfaces select "high range 4×4". This is the standard 4×4 driving mode. In this setting you still have the normal gear reduction as in 2×2 mode, but the vehicle goes into 4-wheel drive mode. You only need the "low range 4×4" mode for steep rocky climbs or areas with very soft sand. With this selection, the vehicle drives much like a tractor. As soon as you have left the extreme passage, you switch back to "high range 4×4" or the normal rear wheel drive.
Offroad driving
You will not encounter any real off-road driving during your trip. In the protected areas it is forbidden to leave the given paths. Outside of protected areas, leaving paths is also not advisable or is not permitted by the vehicle rental company for safety reasons. This has several reasons. On the one hand it serves the protection of landscape and wildlife, on the other hand also your own safety. Away from roads, you quickly get stuck, severely damage your car or even endanger your own life.
Quick-Hint
When to use which 4×4 drive:
– High range 4×4: if signs require it, on poor gravel or sand roads, on soft sand passages
– Low range 4×4: when got stuck, very soft sand or mud, on steep stony slopes
– 2×2 drive: on all tar roads and well maintained gravel roads
---
Find more Info to the topic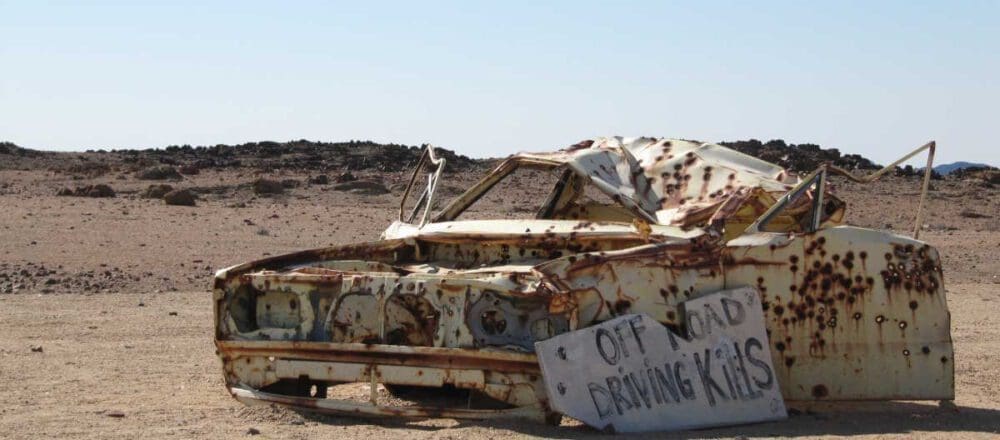 Sometimes it's a little carelessness, sometimes other road users or wildlife and sometimes just bad luck. Before a breakdown or accident, ultimately no one is immune. But always, the most important thing is – keep calm. What you should also do you will find here in the form of some…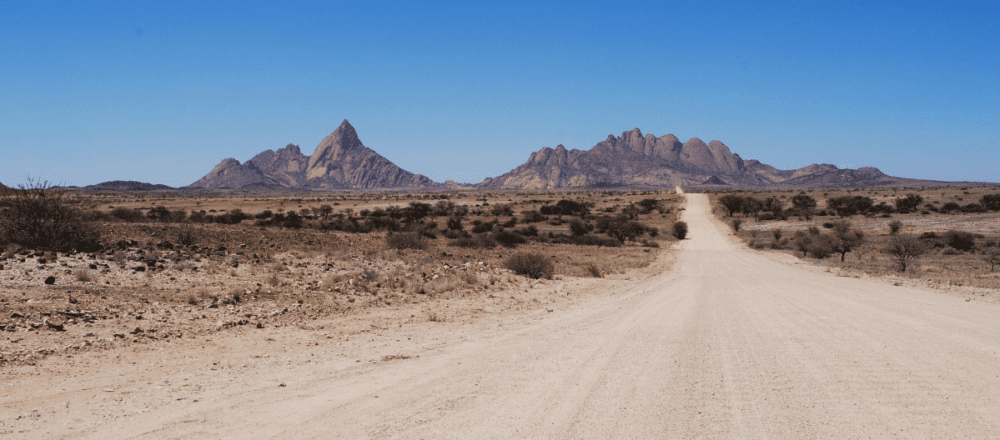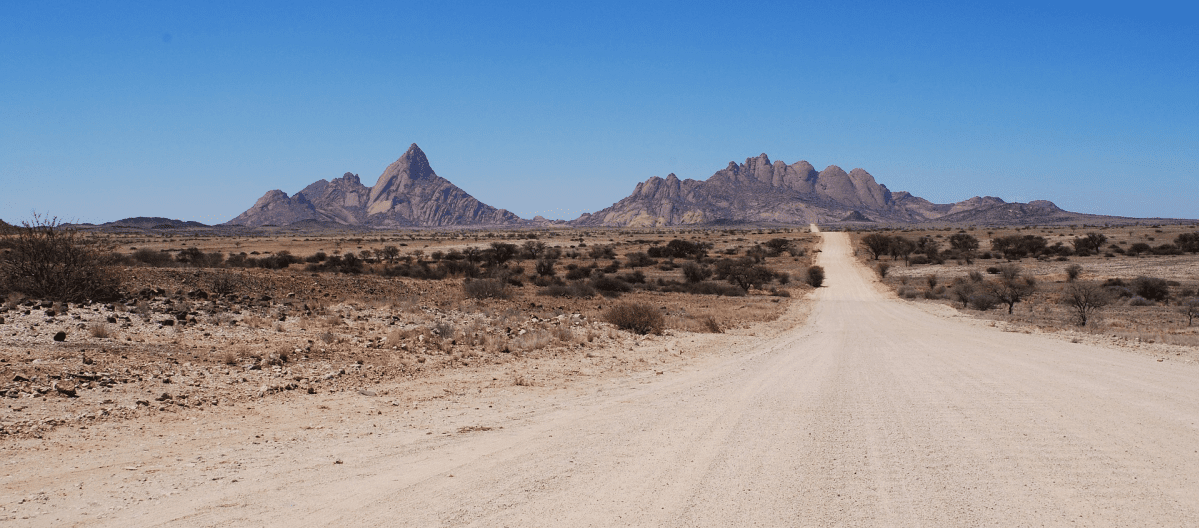 Self-drive safaris are a very popular form of travel in Namibia. They give you the opportunity to discover the country at your own pace, giving you the feeling of boundless freedom at its best. Often travelers plan their tour independently and only book a rental car. Especially for the latter,…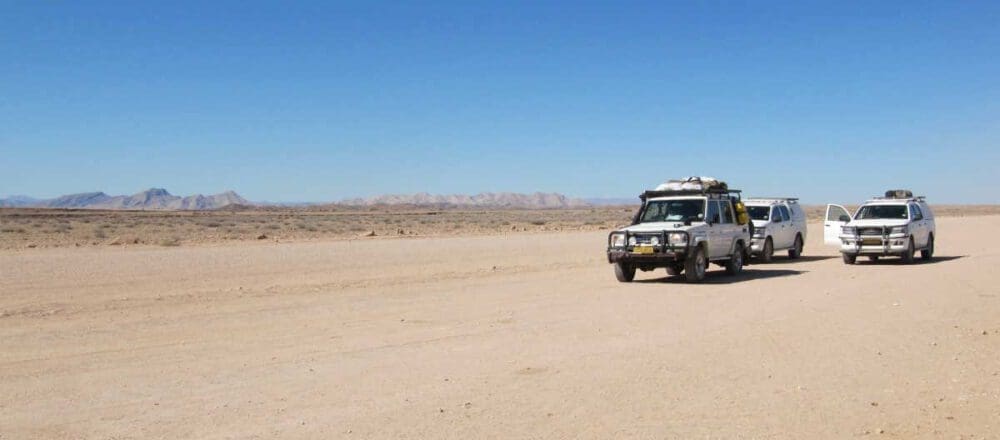 Unfamiliar left-hand traffic, unfamiliar traffic rules, endless expanses, sparse population and wildlife that can cross the road at any time. When driving in Namibia, you can expect some challenges that you probably don't know from your everyday life. Therefore, we would like to support you with the most important tips…