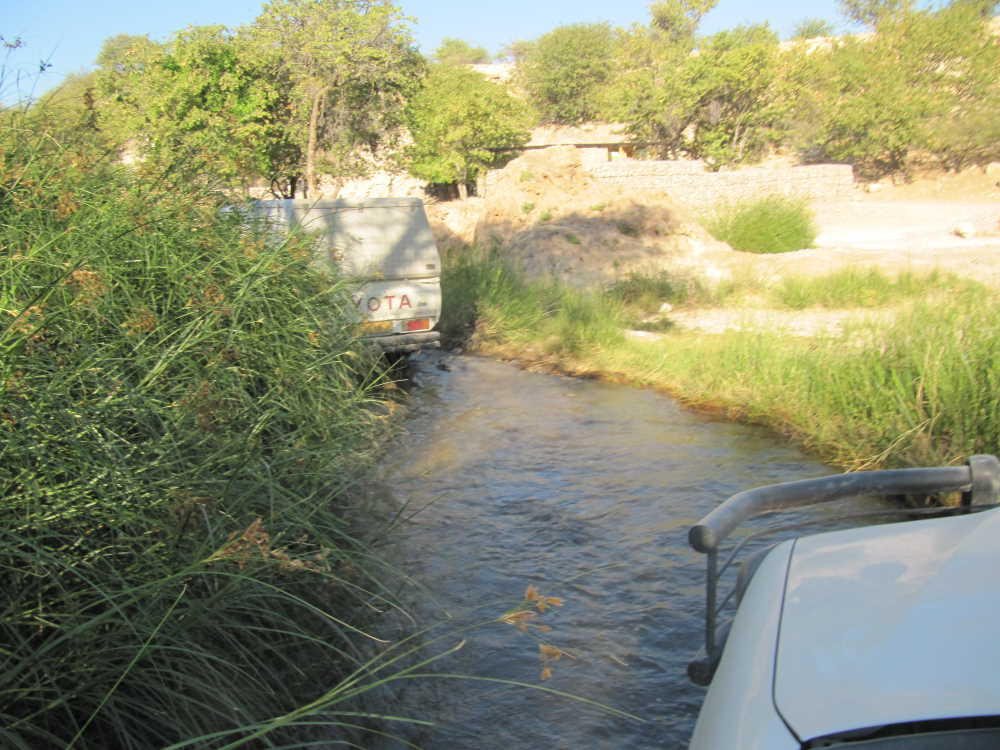 Sometimes it's a little carelessness, sometimes other road users or wildlife and sometimes just bad luck. Before a breakdown or accident, ultimately no one is immune. But always, the most important thing is – keep calm. What you should also do you will find here in the form of some useful tips.
Get support by your rental company or tour operator
No matter what happened to you, you should first briefly inspect the damage. In the event of an accident, you must then report it to your vehicle rental company. In the case of a breakdown, it is up to you to decide whether to report the problem immediately or later. If you need help, contact the rental company or the tour operator. For this purpose you will always get an emergency phone number. In this conversation, please describe your current situation and the problem. You will then receive further information about what steps you can take yourself or how long it will take until help arrives. In this way you will also find out possible further emergency numbers of doctors, police or other helpers.
In case of accidents, the GPS tracking in your vehicle will also automatically send information to the rental company. This way you can be found and yours helped even in areas without cellular coverage.
In case you need roadside assistance, you will need some patience. Given the vastness of the country, it may take several hours for helpers to arrive. During this time you should not move away from the vehicle. This is especially true in remote bush areas. The vehicle offers you shade and protection from the wild animals. You should also make sure that you always have a daily ration of water and snacks on board.
Breakdown due to a flat tire
On Namibia's rough roads, it is not uncommon for a tire to give way under the harsh conditions. By being careful and using the right air pressure, you can drastically reduce the chances of such a puncture – but it is not a guarantee. You can also find important tips on tire pressure in our article on sand, gravel and 4×4 driving.
Unfortunately, a flat tire breakdown is not only time consuming, but can also be very dangerous at high speed. For this reason, Dusty Car Hire Namibia rental cars are equipped with a tire pressure monitoring system. Sensors on the valve caps continuously measure the air pressure and report it to a small monitor inside the vehicle. In case of pressure loss you will be alerted by a warning tone and the display will show you the affected wheel. This gives you enough time to bring the car to a safe stop.
What is the quickest way to fix a flat tire?
In fact, the quickest solution is to help yourself. Provided that you were able to stop the vehicle in an orderly manner, this is also not a major challenge. Safari rental cars in southern Africa are in the vast majority of cases equipped with 2 spare wheels. These can be mounted on the vehicle or stowed on the loading area.
The often trickier question is – where are the tools? With Toyota, this is not intuitive to find as it is stored under the rear seat. You first have to pull the backrest up slightly to release it. Then you can fold the entire bench seat forward and find the longed-for tool there.
If your vehicle has a high-lift jack, we recommend this over the standard jack. Especially on sandy and uneven ground, these are usually easier and safer to handle. In general, you should always make sure you have a secure footing when attaching the jack to avoid accidents during the wheel change. The actual changing of the wheel otherwise works the same way as with your car at home. Even if self-help is the quickest solution in case of a flat tire, don't be afraid to contact your rental company in case of problems.
Oops Stuck – Instructions for vehicle recovery
When touring Namibia or Botswana, soft sand passages are the most common reason for getting stuck. You will often encounter them in remote areas where there are only sandy roads or dried up riverbeds. The best tip to avoid getting stuck is to survey the path on foot beforehand if in doubt. If it still happens here are a few tips on how to get unstuck.
The most important thing in advance: simply accelerating often leads to the vehicle digging in and the recovery only becomes more complicated. Therefore, first stop and assess the situation.
Use the four-wheel drive
The easiest and usually sufficient option is to use the all-wheel drive capabilities of your vehicle. Especially on tourist trips, you sometimes forget to shift into four-wheel drive in time. Provided that the car has not dug in yet, i.e. the underbody is already resting, first try to get free in high-range 4×4. If you don't succeed after 2-3 attempts, stop, it won't get any better. Here the low-range 4×4 reduction usually helps. In this mode, more power and above all less speed is transferred to the wheel. This results in more grip. If you have not already adjusted the air pressure of the tires, you should also do this first. With this, you should be able to free yourself in 90% of all situations.
What can I do if the car has dug in?
In case you have dug in, at least the wheels must first be somewhat shoveled free again. You will always find a spade in your vehicle for this purpose. If the floor of the vehicle rests completely on the ground, you should also expose it a few centimeters. As soon as the vehicle has air under the wheels and the ground again, you can first try to free the vehicle using the low-range reduction. If this does not work, have another vehicle pull you out or use the winch of your vehicle if available.
Pulling out by another vehicle is preferable, as using the winch can also be dangerous if you lack experience. For towing and recovery maneuvers you will find appropriate equipment in your vehicle. If you are not sure about this, please contact your rental company. He will give you advice or send assistance for your recovery.
Find more Info to the topic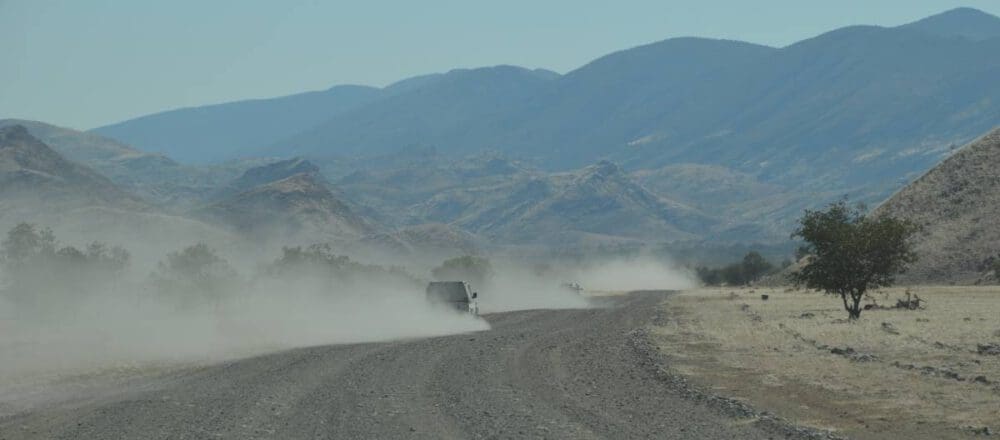 Namibia's road network covers about 45,000 km of which about 60% are not paved. Accordingly, on every trip you will have the pleasure of driving on less or unpaved roads. Therefore we would like to give you some hints for driving on sand and gravel roads as well as 4×4…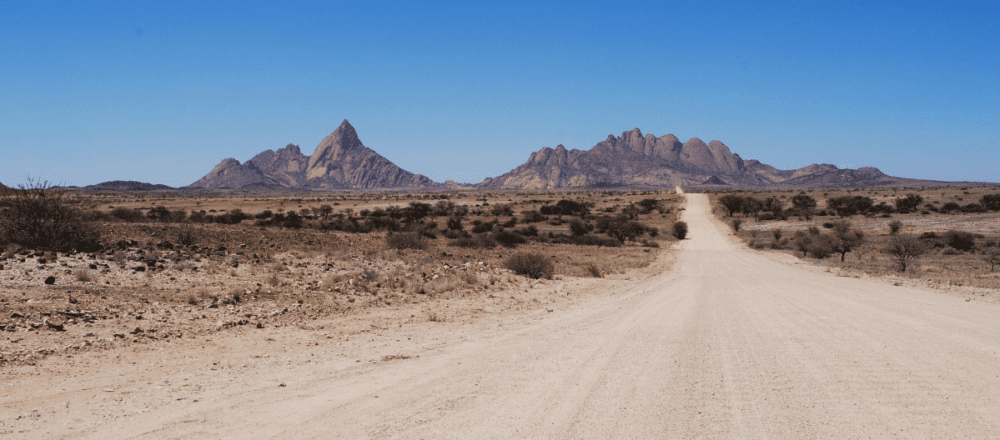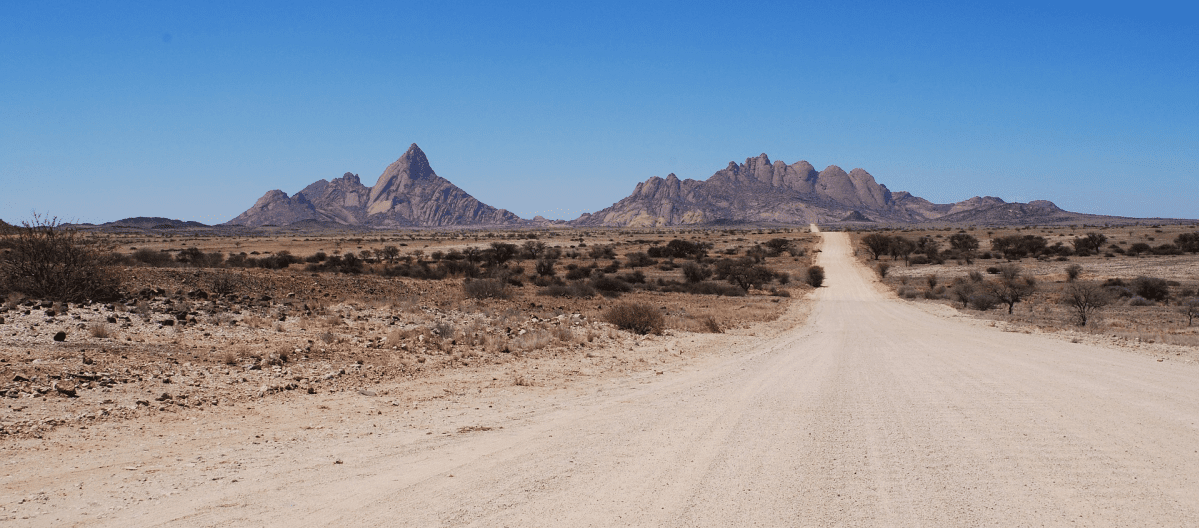 Self-drive safaris are a very popular form of travel in Namibia. They give you the opportunity to discover the country at your own pace, giving you the feeling of boundless freedom at its best. Often travelers plan their tour independently and only book a rental car. Especially for the latter,…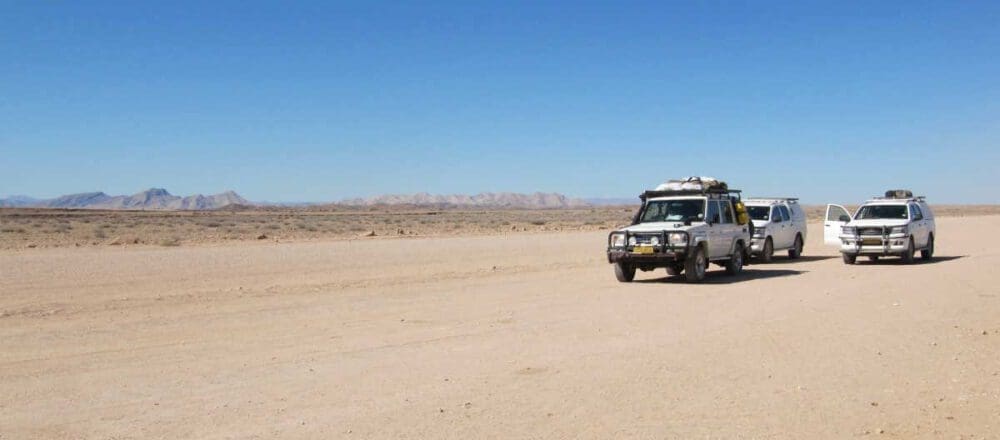 Unfamiliar left-hand traffic, unfamiliar traffic rules, endless expanses, sparse population and wildlife that can cross the road at any time. When driving in Namibia, you can expect some challenges that you probably don't know from your everyday life. Therefore, we would like to support you with the most important tips…