Your partner for Safari Travels and 4×4 Car Rental in Namibia
Dusty Trails Safaris is a family tour operator in Namibia offering a personalized safari experience in Namibia and Botswana. Together with this regional dedication and our valued partner company Dusty Car Hire we offer full services such as pre-built trips, designing individual trips to your desires as well as car & camping gear rental.
Come and find your way to discover the beauty of southern Africa!
A strong partnership for your convenience
Dusty Trails Safaris Namibia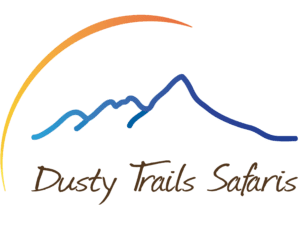 Dusty Trails Safaris is a Namibian tour operator specialized on individualized safari experiences in the southern Africa. Based on our long experience in Safari trips, meanwhile also offer a selection of prebuild Safari trips.
You can either choose a standard trip or use those trips as an inspiration for your individual trip planning.
Dusty Car Hire Namibia
Dusty Car Hire is completing the Dusty Trails Safaris portfolio with Safari car and camping gear rentals. A reliable and solid car and good camping gear is important for an enjoyable journey.
Dusty Car Hire is offering classical 4×4 Safari cars for private trips as well as specialized vehicles for group travels.
Convince yourself and check out rental cars.
Get to know the Dusty Family
Interested in getting to know who is behind Dusty? Feel welcome to get to know the Dusty family.
It all started as a small family business with a retired Namibian missionary, his wife and his son. They wanted to share their passion for the country, nature and wildlife with guests by showing them their favorite places in Namibia. Since that time the company grew to a real tour operator and the "Dusty Family" started to grow. But still the vision stayed the same – sharing the passion to guests.
Have a look to the Dusty Family
Got interested or having questions? – Contact us!
I you got curious about us and our service offerings, or should have any questions – please feel free to contact us.
To get in contact we offer multiple options:
Quick and easy? – Try our contact form or use the direct contact data.
You have general questions about travelling to southern Africa? – Check out our Info section
You want to be updated on a regular base? – Follow us on social media
Dusty Trails Social Media and Reviews