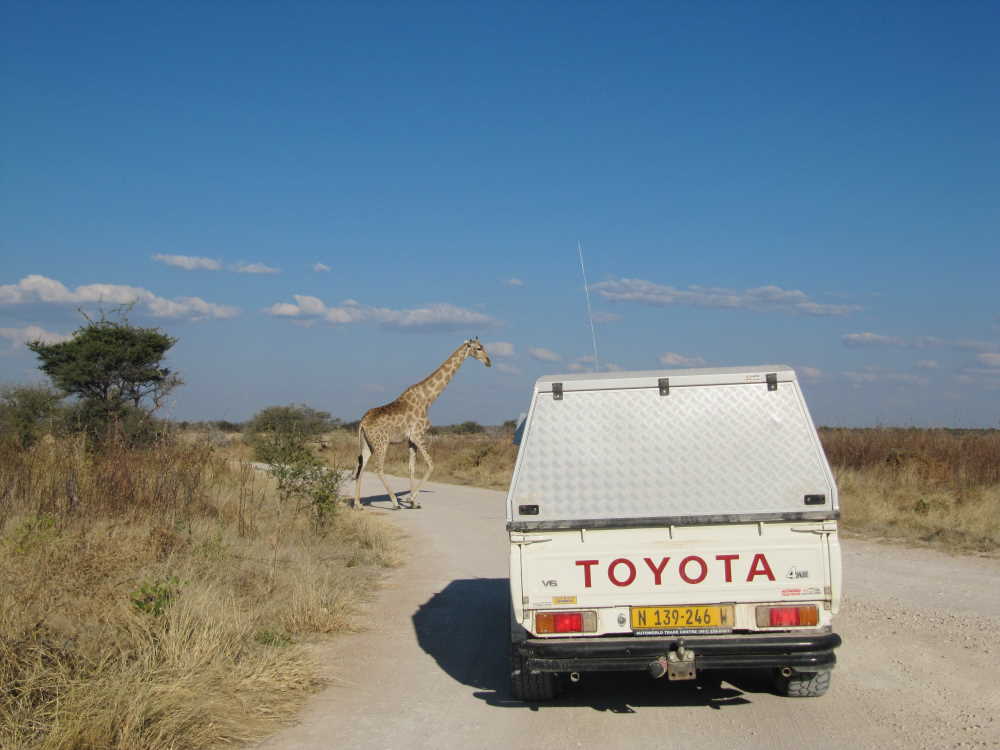 Self-drive safaris are a very popular form of travel in Namibia. They give you the opportunity to discover the country at your own pace, giving you the feeling of boundless freedom at its best. Especially among younger travelers, self-drive camping trips are very popular, as they are often the most cost-effective option for a safari. Generally, we recommend to use offers of experienced tour operators, especially for your first safari. Often, however, travelers plan their tour independently and only book a rental car. Especially for the latter, we have gathered some valuable self-drive tips here.
Self-drive tips – #1: What is the right rental car for my trip?
In case you want to plan your trip on your own this is one of the most important questions of your planning phase. The most beautiful route with the best accommodations is of no use to you if you do not reach your destination due to the wrong vehicle. For that reason some self drive tips for choosing your car ist beneficial.
Get a real 4×4 Safari car

Here you should also pay attention not only purely on costs. For example, Windhoek you can easily rent a normal street car, which is not only cheap, but also reminds you of your car at home. With this, however, you will quickly become unhappy at the latest on the first gravel road. In addition, damage caused to the vehicle must usually be paid separately, depending on the insurance coverage.
For a real safari, therefore, basically only a four-wheel drive vehicle comes into question. Most often you will find here Toyota Land Cruiser or Toyota Hilux. Vehicles of these categories will allow you to pass through all the places that are relevant for you. If you plan to drive through difficult terrain, a Toyota Land Cruiser is often the safest choice.
Consider the required space for luggage and equipment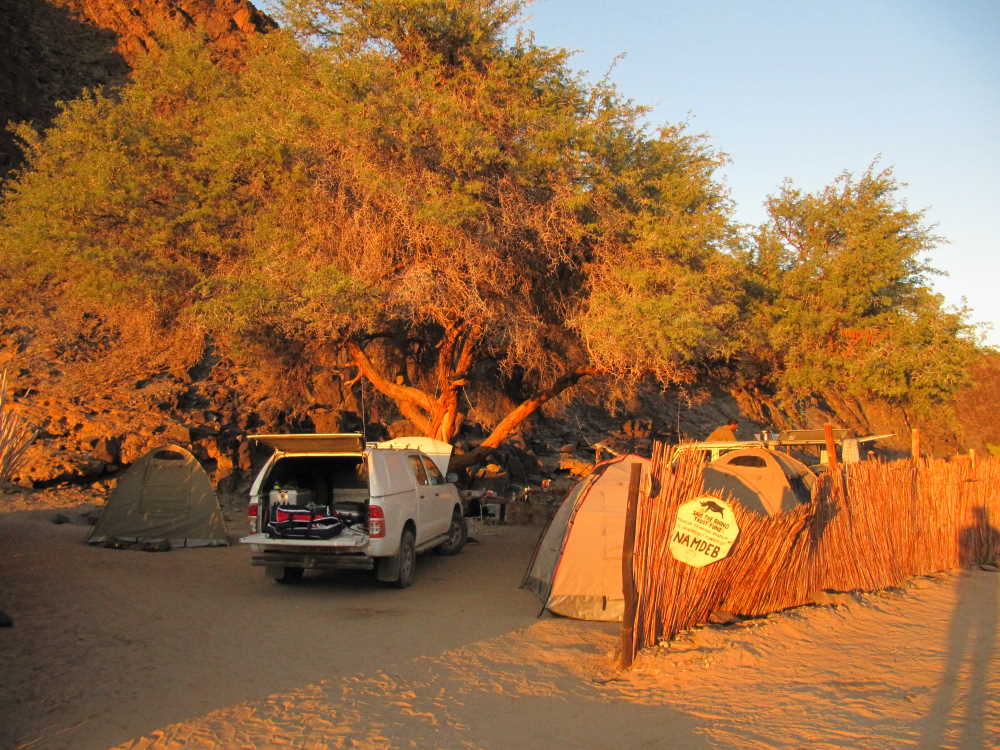 Also crucial for the choice of the right vehicle can be your accommodation. On camping safaris you need space for luggage and camping equipment. This is best provided by single or double cab pickups. Any equipment will find easily accessible space in the cargo area, so you only need to hold the bare essentials in the cabin. For lodge safaris you can also choose more comfortable ones with SUVs. Here, in addition to your luggage, you only need space for a refrigerator and your food for the day. These can be conveniently stored in the trunk. The passenger compartment then offers enough space for the passengers. By the way, this option is also highly recommended for family travel. The Toyota Landcruiser SUV Series 200 even offers space for up to 7 people.
Self-drive tips – #2: Basic rules for rental vehicles
No matter which vehicle rental company you choose in the end. The basic principle is always the same. You choose the vehicle category or even a very specific vehicle. As part of the rental process, drivers must be officially registered and also show your driver's license for this purpose. Usually your itinerary will be requested to check if areas are included for which rental is excluded. Please mention especially planned border crossings, as you may need additional documentation for the vehicle.
It is also necessary to select the insurance cover. Different packages are offered. They differ in the percentage of the deductible and the included damages. Depending on the choice of insurance, this affects the rental price and the deposit to be paid in advance. A credit card is recommended to pay the deposit. The credit will be blocked for the duration of your trip. If you return the vehicle undamaged, this money will be released for you again.
When you take over the vehicle, you will receive a short briefing. You should also inspect and record any previous damage together with the rental company. If you cause any damage during the trip, you will have to pay for it when you return the vehicle.

You will also get your required camping equipment directly from the vehicle rental company.

All safari rental vehicles are equipped with GPS tracking. This has several reasons. On the one hand, the adherence to the speed limits can be ensured for the insurance coverage. Here you are warned by beep sounds in case of speeding. On the other hand, in the event of an accident, you can be located by the rental company so that help can be dispatched to your location in a targeted manner.
Self-drive tips – #3: Planning daily stages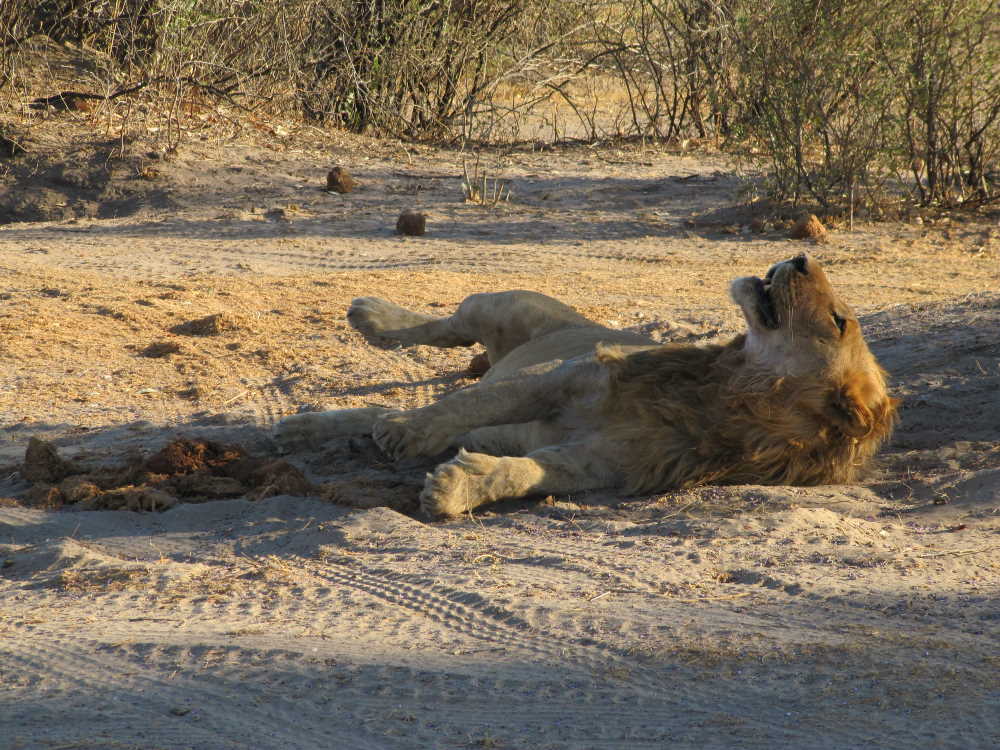 The right planning of the daily stages is a significant factor for a nice and relaxing trip that you will remember with pleasure. Namibia is very large and offers an enormous number of places waiting to be explored by you.

Do not overdo it and rather plan shorter daily stages. There is no simple rule of thumb for the daily distance. The choice of roads, their condition and times for photo stops create a great variability in the reasonable range. If in doubt, seek assistance in planning your trip. For this you can also come to us.
Heat, dust, bright sun and the varying road conditions make driving exhausting. So plan regular breaks. On many roads, there are extra small rest areas under shady trees for this purpose. For longer distances, you should plan at least one stop per 2 hours of driving time.
You should avoid driving at night at all costs. At night there is a lot of game traffic, which is even more difficult to spot than during the day. Easily overlooked is a warthog on the side of the road that can cause their vehicle to roll over.
No fight without a bite
This applies to both you and your vehicle. Namibia is not densely populated. Places can easily be 100 km apart. Therefore, you should always make sure you have enough food for yourself and keep an eye on the fuel gauge. If in doubt, use every opportunity in the bush to fill up the vehicle. The food is especially important if you should stop once. Make sure you always have enough water on board. At least 5 liters, if you are traveling with several people at least 3 liters per person. Also a few food for the road are advisable.
Quick-Hint
Always pack food for 24h and do not drive to remote areas with only half a full tank.
---
Find more Info to the topic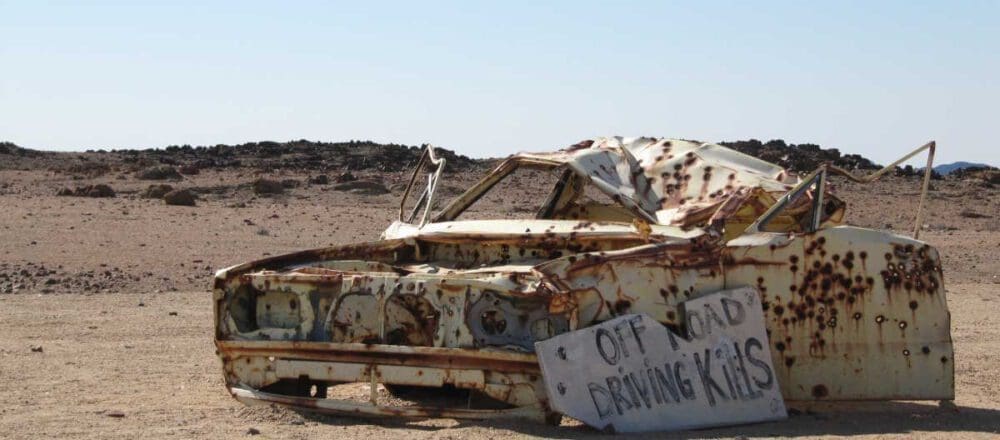 Sometimes it's a little carelessness, sometimes other road users or wildlife and sometimes just bad luck. Before a breakdown or accident, ultimately no one is immune. But always, the most…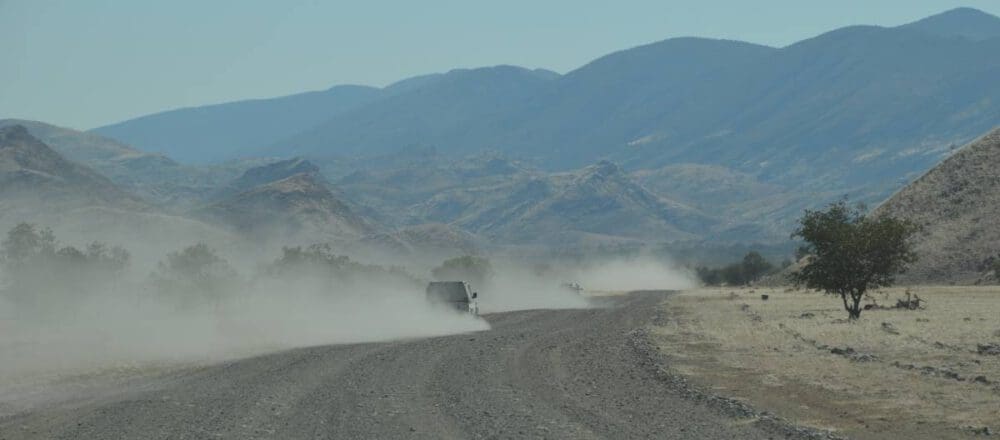 Namibia's road network covers about 45,000 km of which about 60% are not paved. Accordingly, on every trip you will have the pleasure of driving on less or unpaved roads….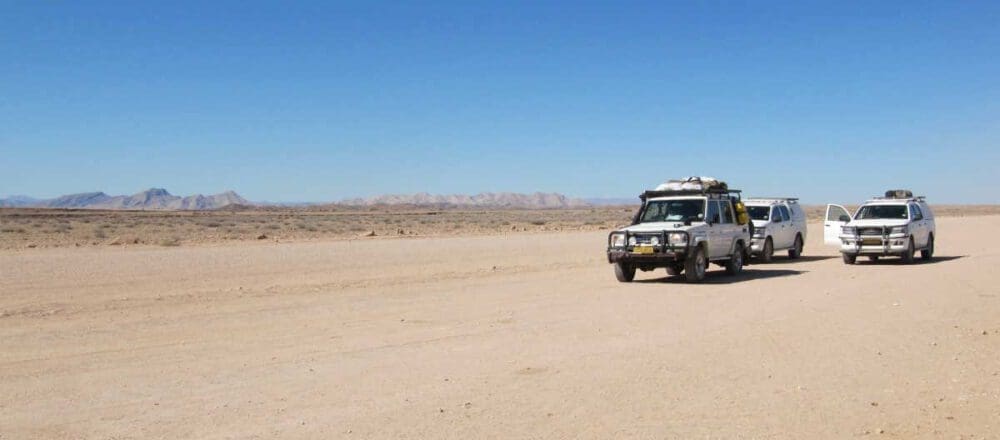 Unfamiliar left-hand traffic, unfamiliar traffic rules, endless expanses, sparse population and wildlife that can cross the road at any time. When driving in Namibia, you can expect some challenges that…