COVID-19 had a major impact to southern African countries. Foremost South Africa had a major impact on health and social services and had to mourn many deaths. After long times of lockdown luckily the situation is continuously stabilizing. But still the economic impact is hard on the countries. Especially on Namibia and Botswana the tourism industry is playing a major role in those countries overall economics. COVID in Namibia caused all of the lodges and tour operators to struggle hard. Lots of employees lost their daily income, even quite a few companies had to close down completely. Important to know – not only people are suffering from missing tourists also wildlife conservancy has to struggle. Private run wildlife conservancies are mainly financed by tourists and volunteers coming to visit or work for those organizations. For that reason the countries are trying to find the best balance in between national healthcare and opening the borders for tourism again.
Namibia is safe to travel
COVID-19 figures of Namibia are low. The country is officially assessed as being less affected by the pandemic. Tourists are allowed to enter the country from Hosea Kutako International Airport Windhoek as well as from Walvis Bay Airport. When entering via flights the airlines are taking care of the passenger registration – no extra declaration to be done by the tourist. Also the entry via roads is partially possible again. Border crossing from and to Botswana is possible at Ngoma, Mohembo und Mamuno border posts. From Zambia the entry via Katima Mulilo is permitted.
Is Namibia threatened by the South African COVID mutation?
For this reason, the authorities also currently fear introductions from this region. For this purpose, the country's border with South Africa is completely closed up to 15. February 2021. This strategy seems to be successful. Namibia was also hit by a second Corona wave, which led to a strong increase in numbers. However, since the beginning of February the numbers are again strongly declining. This is especially noteworthy since the winter months are the main travel season for the locals. We are continuously monitoring the current case numbers in order to be able to provide you with appropriate information. If you would like to inform yourself independently, you are welcome to do so in our info article on COVID numbers in Namibia and Botswana.
For the protection of the population but also of the tourists, entry & hygiene rules apply in everyday life in Namibia as well. These can be found below summarized and continuously updated.
Following rules apply for tourists entering Namibia
negative COVID-19 test with international validity at arrival

the test mustn't be older than 7 days
even with Corona vaccination the negative test is required upon entry
children under the age of 5 are excluded

tourists have to have a fixed itinerary

according to that itinerary you can move freely in the country without any quarantine

heath check forms need to be filled out
in case of infection during the stay

you need to go into isolation
isolation and necessary medical treatment will be at your own cost
to cover those cost a travel insurance is required at the time of your entry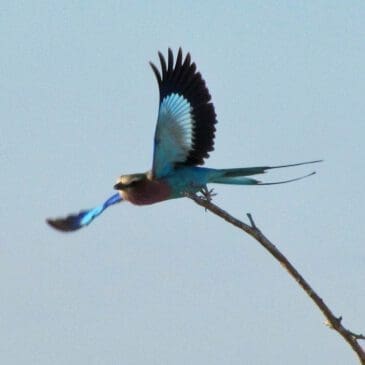 Leaving Namibia
As of now there are no special regulations apart from the normal departure formalities required by Namibian authorities. Depending on your home country and current infection rates there may be different regulations in place, e.g. negative PCR-Tests or quarantine. Please keep informed during your trip about the recent regulations.
In case you need to provide a negative test you need to book an appointment OSH-Med International or PathCare Namibia. Both facilities are providing internationally accepted PCR-Tests. Please be aware that there are no valid testing offerings at the airport itself. On a trip organized by Dusty Trails Safaris Namibia we will of course assist you with the necessary arrangements for your departure.
COVID Namibia – general rules of hygiene
In general the current COVID-19 regulations are quite tourism friendly. Nevertheless the typical hygiene rules are also applicable in Namibia.
limit of public events to 50 persons
mask obligation in public locations
regular hand hygiene and disinfection
social distancing
Additionally to those standard rule please always check on special regulations when entering buildings an national parks.
Your safety during a safari trip
How is your heath safety ensured whilst travelling? It is a combination of well organized hygiene concepts and natural social distancing.
In order to provide consistent and effective hygiene standards against COVID infections in Namibia, basic guidelines have been established for all sectors of the tourism industry. These rules also apply on every trip organized and executed by Dusty Trails Safaris Namibia or every safari car rental by Dusty Car Hire Namibia. The summary of the applicable rules is published by the Namibian Tourism Board.
Social distancing is easy on a safari trip to Namibia. Especially on camping safaris your contact is mostly limited to the group of people you are travelling with. There are only very few points on a trip where you will get in contact with local/ foreign people. A self drive safari is currently the most effective way to combine joy safari travelling with the safety of social distancing.
---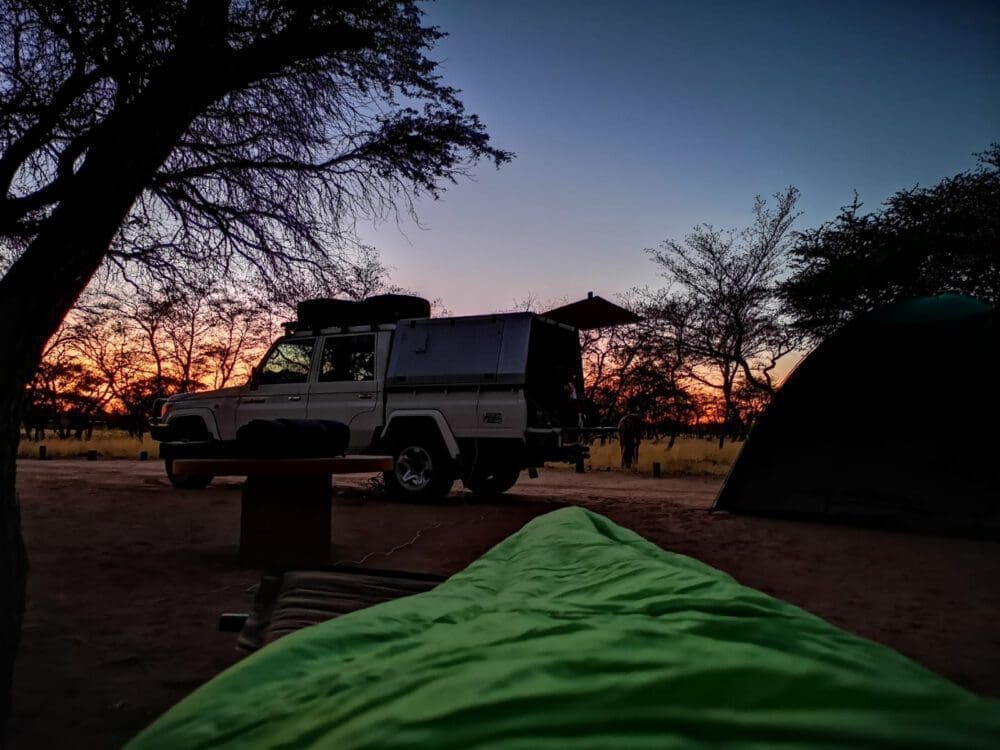 Your chance for a very special journey
Travelling Namibia now is offering a very unique chance – safari without any other tourists!
Currently there is only very few tourists around which brings the unique opportunity to be free of disturbance. Even in the Etosha National Park you will hardly see other people. Usually the Etosha National Park as the biggest national park of Namibia is one of the major tourist attractions. Our first trip this year also had some days here with amazing chances to see the rich wildlife and having the feeling of being completely alone in the bush. The following video is showing the Okaukeujo campsite that is very popular due to its illuminated water hole, where you can see rhinos, elephants and giraffes drinking during the night.
Looking for your perfect safari? Try our Safari Finder!

The Safari Finder is helping to find the kind of travel that is matching your travel habits best. You can find information to the different kinds of safari travelling as well as accommodations. By the way: to cope best with the uncertainness of the Corona pandemic our special COVID-19 cancellation policy applies to all bookings.
COVID-19 Cancellation Policy
In order to provide a fair solution for the continuing uncertainness caused by the COVID-19 pandemic we are offering a special cancellation policy.
If the current health regulations at your booking dates make travelling impossible you can choose between the following options:
the booking can be refunded
you can move your booking to a date where travelling is possible again.
Except the special COVID cancellation policy our usual terms & conditions apply.
For current status on health & travel regulations please refer regularly to your responsible authorities. In case you have questions or need support in elaboration recent COVID regulations, please feel free to contact us.
Did you know? – Namibia can be considered safe to travel and is currently offering even more spectacular wildlife experiences. Even at the most famous places and national parks you can enjoy the wildlife almost on your own. Read more in the Namibia COVID-19 status blog post.