PLACES TO EXPERIENCE
SOSSUSVLEI
ETOSHA
Whether your accommodation preference is tented or Ultra-Luxury, Etosha National Park has everything to offer, irrespective of the gate you use. During the winter months, an abundance of wildlife frequents the many watering holes. In the green summer months, the game wanders all over the park.
The lodges keep track of where the last animals were spotted by guests and locals. Alternatively, your private guide has inside knowledge on where to spot the most animals throughout the park.
Most lodges also have varying wildlife on the property, so guests can enjoy evening sunsets, and storytelling around the campfire while experiencing the glorious, safer animals around them.
SKELETON COAST, SWAKOPMUND AND WALVIS BAY
Often described as the entire Namibian Coastline from the Kunene River to the Swakop River, the landscape, the accommodation and the action varies.
Get the best of both worlds on the sand dunes between Swakopmund and Walvis Bay in the oldest desert in the world.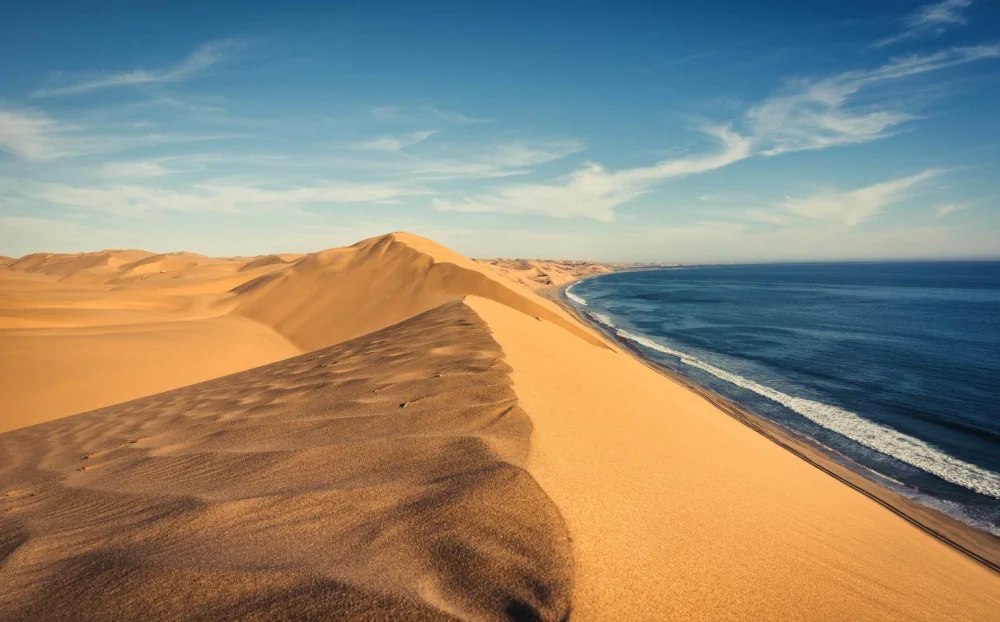 Swakopmund is known as the playground of Namibia, offering action and adventure. Excursions here include a private dinner in the Moon Landscape, the best fishing from the beach or sea, quad biking in the dunes, dolphin cruise excursions and so much more. The fun never ends.
Excursions into the desert satisfy old and young, speed freaks as well as historians and nature lovers. The position of the ocean and the sand dunes creates a view that has been the same for centuries, looked at by everything from beetles to geckos, to jackals, to oryx.
WHAT TO ENJOY
WHAT TO EXPERIENCE
EXPERIENCE ANCIENT CULTURE
Namibia has 11 ethnic groups located throughout the country, with 2 of the 5 most untouched, and there is an opportunity to meet and experience these different cultures.
The people of Namibia are known for their friendliness and hospitality. This is equally supported by landscapes, animals and cultures.
WHERE TO STAY
YOUR RELIABLE PARTNER IN NAMIBIA
To get the best out of this you need uniquely tailored itineraries.
Your personal representative will create a tailored package for your needs to meet your dreams within record time.
The family-run business has been around for many years, passing down generations of knowledge and Namibia's best-kept secrets. Our staff travel Namibia extensively, always on the search for new and exciting activities and routes which are both exhilarating and safe.
Our best quality is our listening skills.
BROWSE OUR NAMIBIA TRIP PROPOSALS
BROWSE OUR RENTAL CAR OFFERINGS