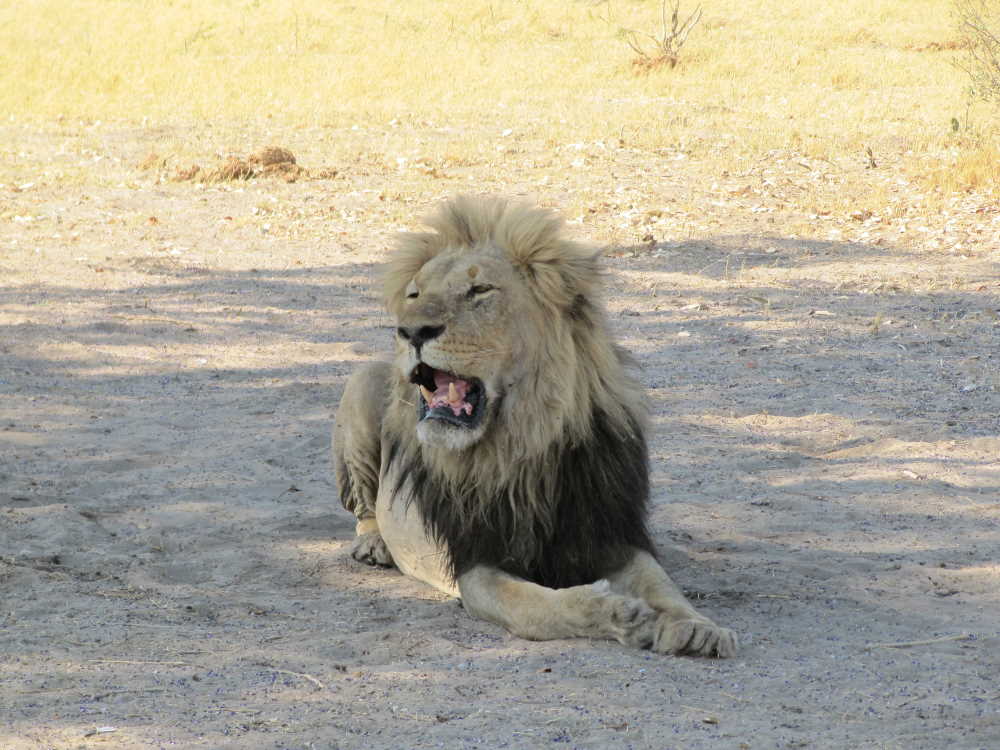 Exploring the Magic of Namibia and Botswana: A Perfect Duo for Travel Enthusiasts
The vast landscapes of Southern Africa hold a treasure trove of natural wonders and cultural experiences waiting to be discovered. Among these, Namibia and Botswana stand out as two captivating destinations, each offering unique charms and attractions. Travelers seeking an unforgettable adventure often contemplate combining these two countries into a single journey, and it's not difficult to see why. This article explores the benefits of traveling from Namibia to Botswana and the magic that unfolds when these two nations are seamlessly integrated into one incredible trip.
Namibia to Botswana: the journey awaits you
Whether you have 17 days or 21 days, Botswana and Namibia makes the best combo!
Combining wildlife with culture, this is a dream route. Most lodges have game on their properties. However doing Namibia and Botswana, one can combine Etosha National Park with Damaraland's desert Elephants and end it in the wetlands of the Botswana Okavango Delta.
Whether you want to see wild animals in their natural habitat or learn about wildlife protection, with Dusty Trails Safaris in Botswana and Namibia you are sure to find a holiday package that will blow you away and exceed your expectation!
Some trips for your inspiration
18 days camping safari through Namibia and Botswana packed with wildlife adventures.
This trip combines popular places and national parks in Botswana and Namibia with gorgeous spots in highly off grid bush areas. 
Destinations: Windhoek, Ghanzi, Maun, Moremi Game Reserve, Savuti – Chobe National Park, Chobe River Front, Kasane Forest Reserve, Kwando River, Divundu, Khaudum National Park and Kalahari North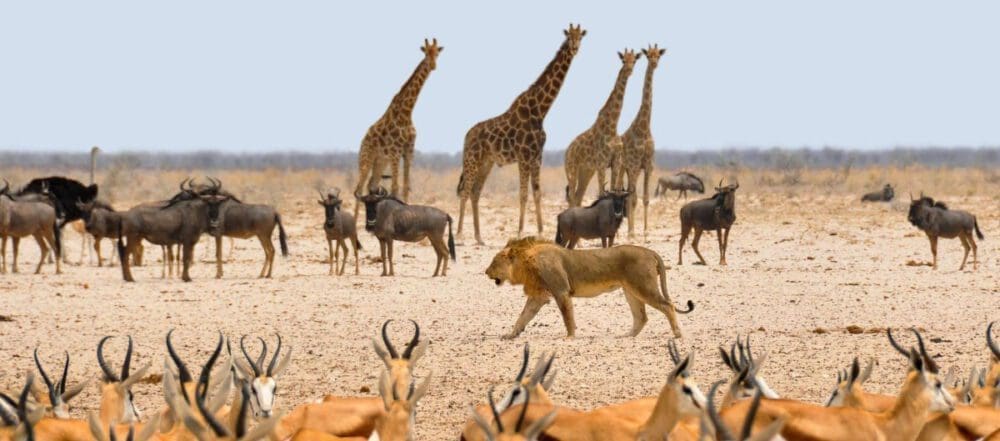 Namibia: Land of Stark Contrasts
Namibia, known as the "Land of the Brave," is a country defined by its stark contrasts and breathtaking beauty. Its arid deserts, vast sand dunes, and unique wildlife make it a captivating destination for travelers seeking a connection with nature and a taste of the wild.
Sossusvlei and the Namib Desert
A journey through Namibia often starts with Sossusvlei, a surreal landscape within the Namib Desert. Towering sand dunes, some of the world's tallest, create a mesmerizing play of light and shadow, particularly during sunrise and sunset. Climbing one of these dunes, like the iconic Dune 45, rewards you with an otherworldly panorama of the desert.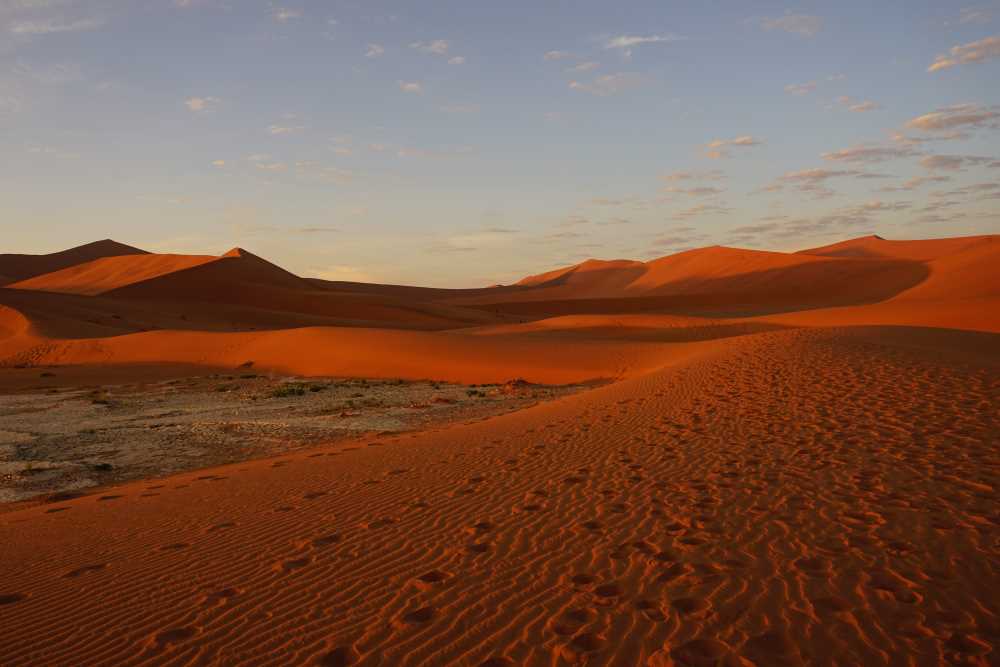 Etosha National Park
Namibia is also home to Etosha National Park, a wildlife paradise where you can witness the Big Five (lion, leopard, elephant, buffalo, and rhinoceros) in their natural habitat. The park's vast salt pans and waterholes attract a diverse array of wildlife, offering unforgettable safari experiences.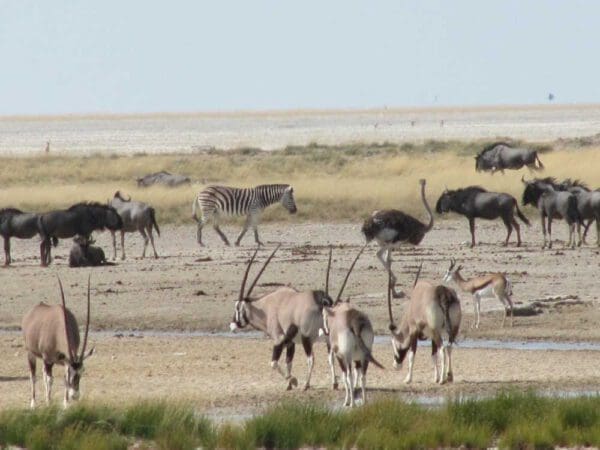 Cultural Encounters
Beyond its natural wonders, Namibia boasts a rich tapestry of cultures. Visiting local communities, such as the Himba or San people, allows travelers to gain insights into their traditional lifestyles and traditions. These encounters offer a deeper understanding of Namibia's history and diversity.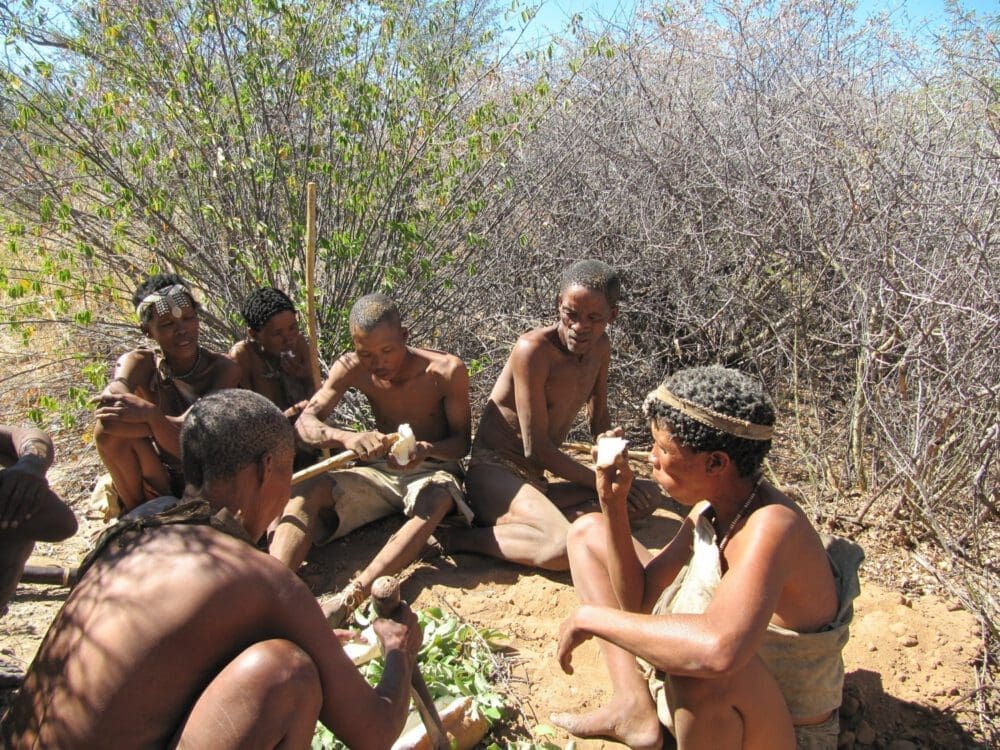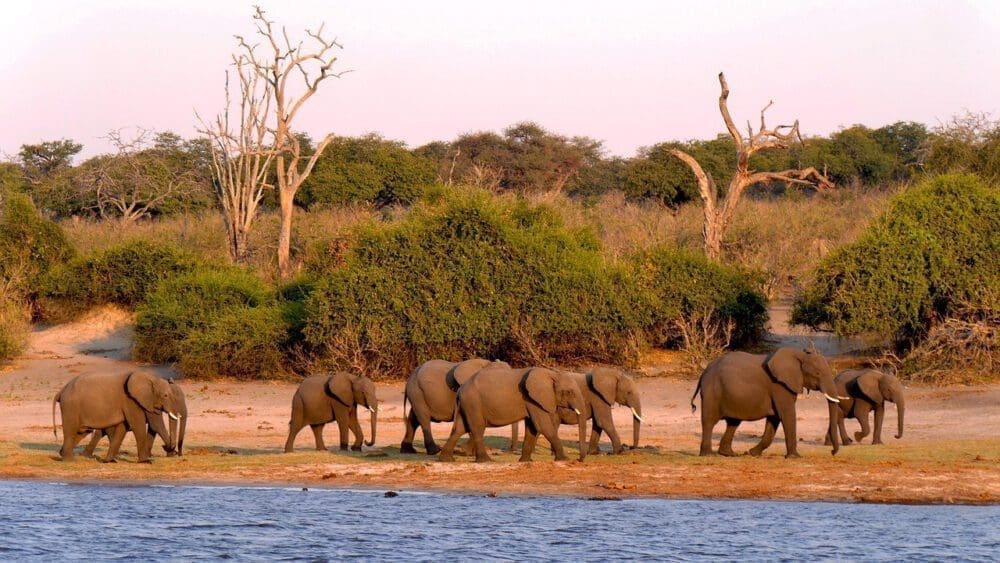 Botswana: Jewel of the Okavango Delta
Botswana, often referred to as the "Jewel of Africa," is renowned for its pristine wilderness and the unparalleled beauty of the Okavango Delta. This country is a paradise for wildlife enthusiasts and adventure seekers.
Okavango Delta
The Okavango Delta, one of the world's largest inland deltas, is a unique oasis in the heart of the Kalahari Desert. Its intricate network of waterways, lush islands, and abundant wildlife make it a must-visit destination for any traveler. Exploring the delta by Mokoro (traditional canoe) or on a guided safari is an adventure you'll cherish forever.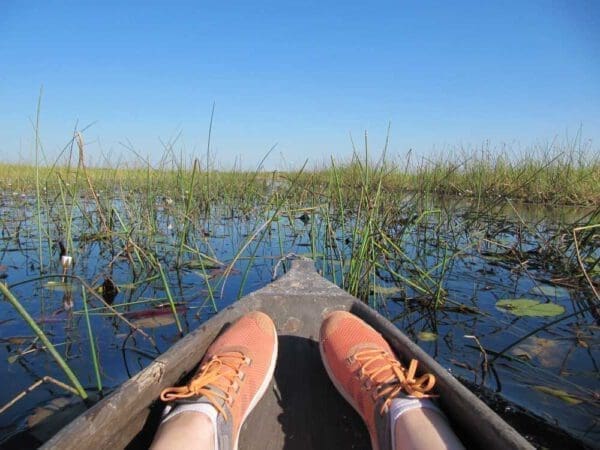 Chobe National Park
Chobe National Park, located in northern Botswana, is famous for its dense elephant populations. A boat cruise along the Chobe River offers a front-row seat to the elephants' playful antics and other wildlife species, including hippos, crocodiles, and a plethora of birdlife.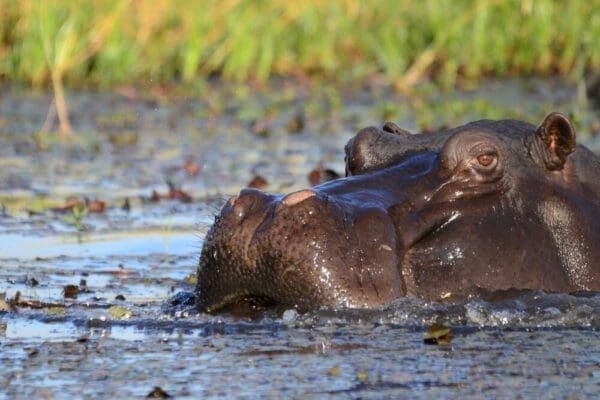 Moremi Game Reserve
In the heart of the Okavango Delta lies Moremi Game Reserve, where you can experience some of the finest game viewing in Africa. Lions, leopards, cheetahs, and African wild dogs roam freely here, creating thrilling safari encounters.
Namibia and Botswana: A Match Made in Travel Heaven
Now, imagine combining the treasures of Namibia and Botswana into a single trip. The benefits of such a journey are manifold.
With the Dusty Namibia Car Hire's new fleet of vehicles, this route can be done in style. We can accommodate your wish to travel in one car – may you travel as a couple, family of four or a smaller group up to 9 people!
You might want to check on our current specials with regards to our car fleet!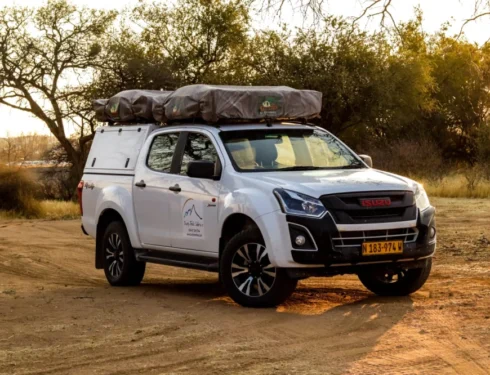 ISUZU Camping car with rooftop tent
The ISUZU D-MAX is the most modern double cab in out 4×4 car rental offerings. It is especially equipped for camping including 2 rooftop tents. Providing a start of the art entertainment system and an easy to drive spirit it is ideal for your next camping trip.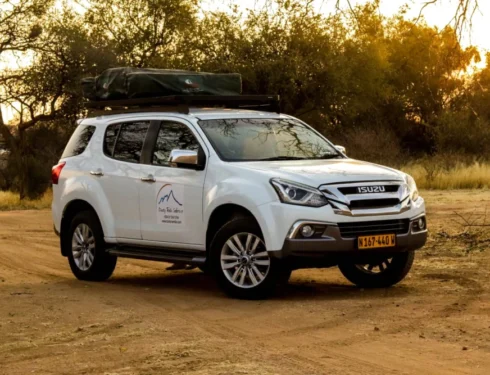 ISUZU mu-X Safari SUV – available with rooftop tent
You are looking for a safari SUV that is offering versatility, maximum comfort, high fuel efficiency but still being a good and reliable 4×4 car? The ISUZU mu-X Safari SUV with rooftop tent is the rental car of your choice!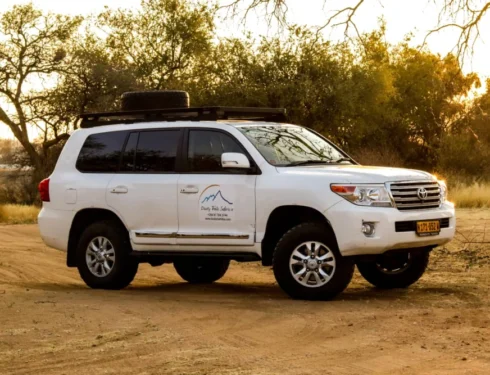 Luxury SUV Toyota Land Cruiser 200 Series
The Toyota Land Cruiser 200 is to most modern and luxury car in our fleet. Get a real 4×4 car but with the full comfort of a modern SUV – that way even off-road driving can be smooth and comfortable. Besides the different conveniences of the car it is also ideal when travelling with your family since there is room for up to 7 people.
Diverse Landscapes in One Trip
Traveling from Namibia to Botswana allows you to transition seamlessly from the otherworldly dunes of Sossusvlei to the lush waterways of the Okavango Delta. In just a few hours, you can go from the surreal to the serene, experiencing a diverse range of landscapes that will leave you awe-inspired.
Comprehensive Wildlife Encounters
By combining these two countries, you gain access to an incredible spectrum of wildlife. Witness the desert-adapted species of Namibia, such as oryx and springbok, followed by the majestic Big Five in Botswana's national parks. This comprehensive wildlife experience is a dream come true for nature enthusiasts and photographers.
Varied Safari Experiences
Both Namibia and Botswana offer unique safari experiences. In Namibia, you have the opportunity to go on self-drive safaris through deserts and remote wilderness areas. In Botswana, guided safaris in open 4×4 vehicles or serene mokoro trips provide a more intimate wildlife encounter. Combining these experiences ensures you get the best of both worlds.
Cultural Richness
The cultural diversity of Namibia and Botswana is equally captivating. In Namibia, immerse yourself in the traditions of indigenous communities, while in Botswana, interact with the warm and welcoming Batswana people. Exploring these cultural nuances enriches your journey with a deeper understanding of the region's history and heritage.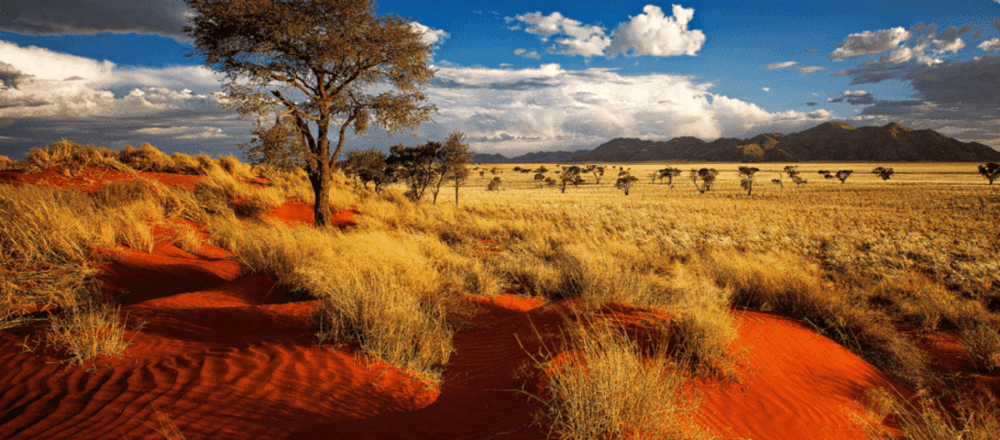 Namibia and Botswana: In Conclusion
Namibia and Botswana, with their distinctive natural beauty, wildlife, and cultures, are each enchanting destinations in their own right. However, it's the combination of these two countries into a single, seamless journey that unlocks a truly unforgettable travel experience.
From the ethereal dunes of Namibia to the pristine wilderness of the Okavango Delta, this journey offers a rich tapestry of adventures and encounters that will leave a lasting imprint on your heart. So, if you're seeking the ultimate African adventure, consider the magic of traveling from Namibia to Botswana, and let the beauty of Southern Africa unfold before you.
Get your trip!
What if you are looking for….. let's say accommodation that is different, adventurous or green. Look no further as we are up to date with latest trends and properties as our team is always exploring for new and unusual nests for you to enjoy. Glamping in most areas is our thing!
Missed a Newsletter? – Check here